MÖTLEY CRÜE BASSIST NIKKI SIXX SAYS WHEN THE BAND FIRST STARTED, "WE DIDN'T WANT TO BE LIKE ANYBODY ELSE"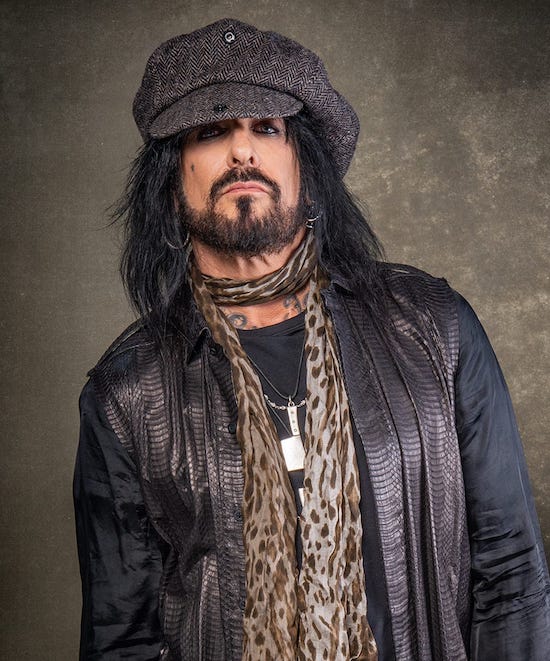 Henry Yates  of Classic Rock spoke with Mötley Crüe bassist Nikki Sixx about his new memoir, The First 21: How I Became Nikki Sixx, among other topics. Highlights from the interview appear below.
Classic Rock: What was it about rock'n roll that spoke to you? 
Nikki Sixx: I remember hearing someone say, "That heavy metal is going to turn you into a degenerate!" And I thought, "That sounds like a pretty good path, I think I'll take that one." Like, "You can have Donny and Marie, or you can have Aerosmith and the Sex Pistols." Hmmm, let me think about this…
Classic Rock: What are your memories of being bullied at school? 
Nikki Sixx: We were living out in the middle of nowhere, in Anthony, New Mexico. And kids are kids. They can be cruel. I'm a father of five. I've seen it. It's how humans are wired. When I finally fought back, I think two things happened. One is that I took control of the situation…The other was that I was willing to face the consequences. 
So when my grandfather picked me up and took me into the car, I thought I was dead meat, right? You can't strike out, beat the sh-t out of other kids at school, because they're just gonna go, "You're the bad guy." Not them. They're the ones with the bloody nose, not you. But my grandfather, I remember he told me: "I'm proud of you for standing up for yourself." That had a big effect for me. Standing up for myself. Standing up for what I believed in. You can go deeper. It was an important moment. 
Classic Rock: The book is subtitled How I Became Nikki Sixx. Do you see Nikki as a character, an alter ego? What is he? 
Nikki Sixx: No, Nikki Sixx is a breathing, living man. And Frank Feranna [Dana's note: Sixx's birth name, which he legally changed to Nikki Sixx] was a young boy…
…My twenty-year-old daughter, her name is Frankie. I have another daughter called Ruby, but her middle name is Feranna. For the book, I went back and talked to all my childhood friends, ex-bandmates, I even found my first girlfriend, which was mind-blowing. We got to reminisce. And it really did remind me that Frank was a dreamer – and Nikki Sixx was his assassin.
Classic Rock: Why did people find you so provocative? 
Nikki Sixx: I mean, I don't think it helped how I dressed. Y'know, all the punks would go to the punk night there, right? And then you've got some crazy, glam, Johnny Thunders, Stiv Bators-looking "girl" – y'know, they're gonna say shit. And that's why I went there. I went there for that very reason. I don't want to fit in. I just don't want to. I've never understood the concept of fitting in. 
I think that's why Mötley Crüe always changed our logo, changed our image, changed our sound, on every single album. And it's why, when Mötley Crüe would play in the early days and people would flip us off and they didn't get it – we loved it. We felt like we must have been doing the right thing. I still feel like an underdog – and I like it.
Classic Rock: Who was the best musician in Mötley Crüe? 
Nikki Sixx: They're all really f–king good. Tommy [Lee] is a monster on drums. Mick [Mars] is one of my favorite guitar players. And Vince [Neil] has something that nobody else has. Isn't that what you're looking for – guys that don't sound like anybody else? I'm not a great player. Like, if I really woodshed for six months, I'm okay. But if I was a different kind of bass player, it would offset the sound of the band. Mötley Crüe is an interesting band, because if you remove any one member, it completely changes the sound…
… A lot of times, Vince would tell me he struggled with the fact I put so many lyrics in a song. Shout At The Devil is a good example. And because of the way that Vince sang, that was what made his voice excel. His voice was kind of like a Gatling gun. Like, bap-bap-bap. I remember the first time the four of us ever played together, we ran Live Wire. I turned around to adjust my bass amp, and Tommy and I just gave each other a look: "Something's happening here."
Classic Rock: What did you want Mötley Crüe to be when you first started out?
Nikki Sixx: We didn't want to be like anybody else. And we didn't care if you liked us. We all emulate, of course. That's human nature. You take a little of this, a little of that. But you're also doing your own thing and going by your gut. We loved the angst of punk…
Classic Rock: 1989's Dr. Feelgood was the band's biggest seller – but do you think it's your best album? 
Nikki Sixx: I think there's some shining moments. I think all of our albums have really shining moments. Every album has the songs like Kickstart My Heart, Shout At The Devil, Live Wire or Wild Side. They all have 'em. But they're albums. Even with my favorite bands, it's more about the whole package. I listen to whole records. I don't listen to singles. 
Kickstart My Heart is a really interesting song, though. I remember, it was hammered out on acoustic guitar. It was a bit more of a punk-rock idea. The lyric, I was being a bit snarky, because radio and MTV was starting to get more nervous and corporate. So the opening line was: 'When I get high, I get high on speed'. But then, the next line was: 'Top fuel funny car's a drug for me'. So it was like, I got out of it, y'know? Like, just close enough but not too close to the flame. 
Classic Rock: Are you better friends with Vince, Mick and Tommy now than when you first started the band? 
Nikki Sixx: Well, we know each other so well. Do you know anybody you've been through as many highs and lows with as Mötley Crüe has for forty years?  don't. I know all their strengths and weaknesses, and we try to be there for each other. But at the same time… somebody asked me the other day, "Do you guys all ride together on the same bus? Do you have the same dressing room?" And I thought, "Well, how sweet." I don't live with the band.
Classic Rock: Do you ever think it's unfair that so many clean-living people die young, while you're still fit and healthy at sixty-two? 
Nikki Sixx:
Y'know, I think this falls a little bit under the question you had earlier about lifestyle. A lot of people don't realize this, but I'm 20 years sober. But before that, I had six years of sobriety. And before that, I had four years where I was clean, right? For those first [periods of sobriety], I went up and down. 
But I'm really looking at somewhere between twenty-five to thirty years of not sticking needles in and drinking alcohol and taking pills and stuff. I actually live a pretty clean lifestyle. But people don't think that when I walk into the restaurant. People are always like, "Hey man! What's happening? High five! Let me buy you a shot of Jack Daniel's!" I'm like, "It's been three decades!"
Classic Rock: What have been the high points of recent years? 
Nikki Sixx: Two things have really changed my life over the last few years. Firstly, there was The Dirt movie in 2019. Y'know, 73 million people or whatever it is now have seen that movie, and it's made an impact on not only our fans but people who had heard of us, had maybe heard a song or two. Younger people, they don't really see rock bands like that. The new rock bands… [laughs] well, it's a different time. Probably rightfully so…
…and also The Stadium Tour. We didn't think we would ever tour again, via our own decision. But when the offer came for stadiums and Def Leppard, it was like, "Well, you know what? I guess rules are meant to be broken, because this is going to be one hell of a celebration."
Classic Rock: It feels like Mötley Crüe have said goodbye to us a few times now. Will this thing ever actually be over? 
Nikki Sixx: Well, eventually, one of us is going to die. I don't know, man. I tell you what – since the pandemic, I am just living day by day. And s–t happens.
Read more at Classic Rock.
The First 21: How I Became Nikki Sixx can be ordered here.