MORE OF THE BIGGEST NAMES CONFIRMED FOR SEASON 14 OF "THAT METAL SHOW": ANTHRAX, DAVE LOMBARDO, JOHN 5, MARKY RAMONE, CHRIS JERICHO, SLAYER, ZAKK WYLDE, ACE FREHLEY & OTHERS TO APPEAR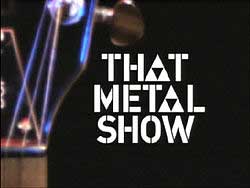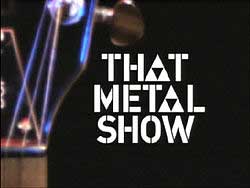 With the recent announcement of Geddy Lee and John Petrucci on the season premiere of VH1 Classic's centerpiece in original programming That Metal Show, more guests have been confirmed for what promises to be the most diverse season in the show's history.
Recently confirmed guests for this season are alumni Frank Bello/Charlie Benante/Scott Ian of Anthrax, John 5, Chris Jericho, Kerry King of Slayer, Dave Lombardo formerly of Slayer and now with Philm, Zakk Wylde, Michael Schenker, Ace Frehley, and Frankie Banali. This season marks first-time appearances for punk rock legend Marky Ramone, rap icon Darryl McDaniels of Run DMC, Gary Holt of Slayer/Exodus, Taylor Momsen of The Pretty Reckless, Max Cavalera of Soulfly, Mark Farner of Grand Funk Railroad, and Andy Biersack of Black Veil Brides. Motörhead and David Coverdale from Whitesnake are confirmed to appear on the show via the Metal Modem. More guest confirmations will be announced at a later date.
Known for having the best musicians in music perform each week on That Metal Show, Season 14 will continue the trend with John Petrucci of Dream Theater making his first-ever appearance on the debut episode. Other confirmed performers are TMS alumni Alex Skolnick of Testament, John 5 of Rob Zombie/John 5 Trio, Joel Hoekstra of Whitesnake, and Frank Hannon of Tesla. Making their TMS musical debuts will be Mike Orlando of Adrenaline Mob, and TMS favorite, the berserker, Zakk Wylde of Black Label Society. TMS first timers will be double-neck shred-master Michael Angelo Batio, Rich Ward of Fozzy, Damon Johnson of Thin Lizzy/Black Star Riders, and Nita Strauss of Alice Cooper/The Iron Maidens.
Kicking off what's guaranteed to be the best season of That Metal Show yet, Rush's Geddy Lee has been confirmed for the debut episode. He will be making his second appearance on the acclaimed hard rock/heavy metal talk show, hosted by Eddie Trunk, Don Jamieson, and Jim Florentine. The episode will premiere on Saturday, February 21st at a new broadcast time of 9:00PM ET/PT, repeating at 11:00PM ET/PT the same evening.
Season 14 will also mark the return of some notable segments including TMS Top 5, Rank and Take It Or Leave It. The popular "Stump The Trunk" segment will also be returning as audience members go out of their way to test Eddie Trunk's vast knowledge for a chance to win a prize and see everyone's favorite Ms. Box Of Junk, Jennifer, who is also returning for the new season. Fans can watch previous episodes and other exclusive bonus clips at ThatMetalShow.VH1.com and the new VH1 app.
Season 14 of That Metal Show will consist of 12 all-new episodes and will be shot at Metropolis Studios in New York City on Tuesday nights for broadcast that Saturday. Audience tickets for upcoming tapings are now available via Gotham Casting at gothamcasting.com/gothamrsvp.
That Metal Show first premiered on VH1 Classic in November 2008 and since has become the only place for all things hard rock and heavy metal on cable television. The show has been visited by some of the biggest names in the genres including members of Black Sabbath, Van Halen, Metallica, Aerosmith, Pantera, Kiss, Judas Priest, Iron Maiden, Pearl Jam, Guns N' Roses, Queensrÿche, Heart, and many more.