MONSTERS OF ROCK CRUISE 2018 FINAL PUBLIC SALE BEGINS TODAY (10/19) UPDATED LINEUP ANNOUNCED, EDDIE TRUNK HOSTING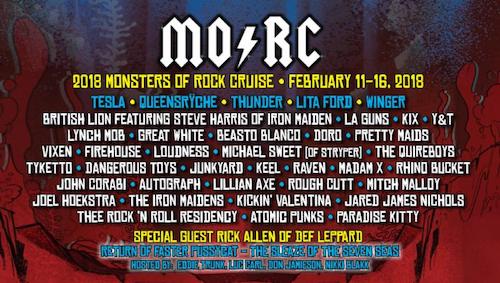 As music fans begin to plan their 2018 vacations, Monsters Of Rock Cruise, the world's premier hard rock/heavy metal experience at sea, has announced that its final public sale begins today (10/19). Limited cabins are available at MonstersOfRockCruise.com, with prices beginning at $1,299 per person, double occupancy. Government fees, taxes, and gratuities are additional and mandatory for all passengers, regardless of age.
Departing out of Miami, FL, the five-day/five-night full ship charter cruise will set sail February 11th-16th aboard Royal Caribbean's Navigator of the Seas (a new ship for MOR) and visit two new ports: Falmouth, Jamaica and the private isle of Labadee. As in past years, the 2018 cruise will also feature two optional pre-cruise parties in Miami (complimentary to cruisers) on the evening of Friday, February 9th and Saturday, February 10th (details TBA).
The confirmed line-up for the 2018 Monsters Of Rock Cruise features over 35 artists, including: Tesla, Queensrÿche, Thunder, Lita Ford, Winger, British Lion featuring Steve Harris of Iron Maiden, LA Guns, KIX, Y&T, Lynch Mob, Great White, Beasto Blanco, Doro, Pretty Maids, Vixen, Firehouse, Loudness, Michael Sweet (of Stryper), The Quireboys, Tyketto, Dangerous Toys, Junkyard, Keel, Raven, Madam X, Rhino Bucket, John Corabi, Autograph, Lillian Axe, Rough Cutt, Mitch Malloy, The Iron Maidens, Kickin' Valentina, Jared James Nichols, Thee Rock 'N Roll Residency, and Atomic Punks.
New lineup additions include Joel Hoekstra (guitarist for Whitesnake and Trans Siberian Orchestra), Faster Pussycat, and Paradise Kitty, plus a special appearance by Rick Allen of Def Leppard. Beyond his amazing career with Def Leppard, Rick is also an accomplished artist and will be showcasing his extraordinary talent in a special art gallery designed especially for the cruise. Finally, fans can look forward to a surprise performance by Rick during the cruise!
In addition to the band performances, the cruise will feature over-the-top, customized activities, including: Monster Artist/Fan Photo Experiences, Gong Show Karaoke, Star Wars Theme Night, My RockNRoll Valentine Ball, "So You Think You Can Shred?" and Cooking with Rock Stars hosted by Lisa Tirone of Chef it up!. Also, the cruise will feature the first Monsters of Rock shipboard Surfing Competition, dubbed "MOR North Shore". The event will be part of the evening's themed event, "Hawaii in the Caribbean," where fans celebrate a night of Aloha festivities and music.
Plus, Eddie Trunk and comedian Don Jamieson (VH1's "That Metal Show"), San Francisco bay area radio host Nikki Blakk, and Luc Carl (SiriusXM's "Hair Nation") are the official cruise hosts and will moderate Q&A's and many other specially designed events crafted especially for this voyage. Just announced, former That Metal Show alumni and comedian, Jim Florentine, will join his VH1 mates for a special reunion aboard the cruise with fan events to be announced.