MONSTERS OF ROCK CRUISE 2018 ANNOUNCED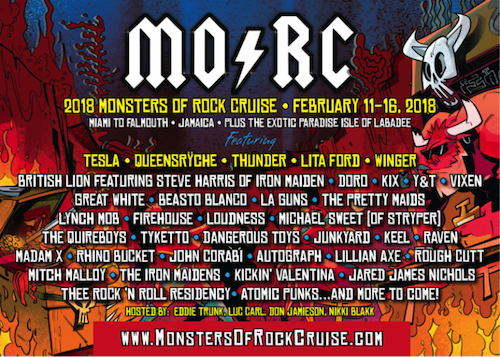 Details for the eighth annual Monsters Of Rock Cruise, the world's premier hard rock/heavy metal experience at sea, have been announced.
Departing out of Miami, FL, the five-day/five-night full ship charter cruise will set sail February 11th-16th aboard Royal Caribbean's Navigator of the Seas (a new ship for MOR) and visiting two new ports: Falmouth, Jamaica and the private isle of Labadee. As in past years, the 2018 cruise will also feature optional pre-cruise parties in Miami on the evening of Friday, February 9th and Saturday, February 10th (details TBA).
The cruise goes on sale tomorrow (5/10) at 12 Noon EST, with cabins starting at $1,199 per person (double occupancy). Government fees, taxes, and gratuities are additional and mandatory for all passengers, regardless of age. For more info, visit MonstersOfRockCruise.com and follow @monstersofrockcruise on Facebook, Twitter and Instagram.
Confirmed line-up for the 2018 Monsters Of Rock Cruise ncludes: Tesla, Queensrÿche, Thunder, Lita Ford, Winger, British Lion featuring Steve Harris of Iron Maiden, Doro, KIX, Y&T, Vixen, Great White, Beasto Blanco, LA Guns, The Pretty Maids, Lynch Mob, Firehouse, Loudness, Michael Sweet (of Stryper), The Quireboys, Tyketto, Dangerous Toys, Junkyard, Keel, Raven, Madam X, Rhino Bucket, John Corabi, Autograph, Lillian Axe, Rough Cutt, Mitch Malloy, The Iron Maidens, Kickin' Valentina, Jared James Nichols, Thee Rock 'N Roll Residency, and Atomic Punks, with more performances to be announced. Plus, Eddie Trunk and comedian Don Jamieson, San Francisco bay area radio host Nikki Blakk and Luc Carl (SiriusXM's "Hair Nation") are the official cruise hosts and will moderate Q&A's and many other specially designed events crafted especially for this voyage.
In addition to the band performances, the cruise will feature over-the-top, customized activities including MOR Artist Photo Experiences, Gong Show Karaoke, My Bloody Valentine Fantasy Ball, So You Think You Can Shred and Cooking with Rock Stars hosted by Lisa Tirone of Chef it up! and even more to be announced.
Navigator of the Seas is unlike any ship experienced before on the Monsters Of Rock Cruise. The Voyager Class ship features the Royal Promenade, spanning the length of Deck 5, featuring restaurants, coffee bars, shopping and connecting cruisers to all performance venues. Other activities aboard the ship include: boogie boarding or surfing the waves at the FlowRider Surf Simulator, challenging yourself on the rock climbing wall, soaking in one of the many hot tubs and pools, or pampering yourself in the world-class Vitality at Sea Spa.
The exclusive island of Labadee is the ultimate private destination for Monsters of Rock cruisers, offering adventure, exploration and relaxation amongst its many bars and pristine waters. Vacationers can amp up the adrenaline on the Dragon's Tail Coaster, a thrilling 30-mile-per-hour ride with incredible views of the island. For more action, adventurous passengers may choose to strap on a helmet and harness, and soar 500-feet down on the Dragon's Breath Flight Line, the world's longest zip line over water. In addition, there are plenty of exciting options to choose from, including wave jet rides, parasailing, snorkel safaris, kayak tours, and much more.
Situated on Jamaica's North coast between Montego Bay and Ocho Rios, Falmouth has something for all travelers. Monsters of Rock Cruisers won't want to miss Dunn's River Falls, one of the most incredible natural wonders in the world and a shore excursion unlike any other. This series of lush, tropical waterfalls cascade over terraced natural stairs as you take the picturesque hike all the way to the Caribbean Sea. Enjoy the journey, taking breaks to swim in the small lagoons and grottos as you ascend the vertical sections of the falls. Cruisers can wrap up the day with a hike and dip into the Caribbean Sea or enjoy a myriad of activities, such as windsurfing, kayaking, horseback riding, river raft rides or sightseeing.