MONSTERS OF ROCK CRUISE 2017: "GATHERING OF TITANS" SET TO SAIL FEBRUARY 2ND-7TH, 2017, GOES ON SALE TODAY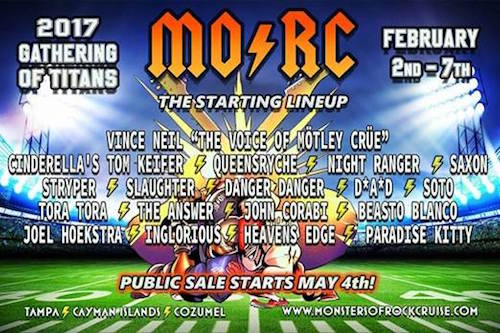 The 2017 Monsters Of Rock Cruise, the 7th edition of the ultimate hard rock/heavy metal experience at sea, will set sail February 2nd-7th, 2017 aboard a new ship and has expanded to six days, visiting two additional ports in the Caribbean for the first time.
Appropriately titled Gathering of Titans, this year's five-night/six-day exclusive full ship charter cruise will set sail out of Tampa, FL aboard Royal Caribbean's Brilliance Of The Seas, visiting Georgetown, Grand Cayman and Cozumel, Mexico and feature 15+ artist performances, including headliners Vince Neil "The Voice Of Mötley Crüe," Cinderella's Tom Keifer, Queensrÿche, Night Ranger, Saxon and Stryper. As in past years, the cruise will also feature an optional Pre-Cruise Party in Tampa on the evening of Wednesday, February 1st (details TBA).
The cruise goes on sale today (5/4/2016) with cabins starting at $1,099 per person (double occupancy), plus government fees, taxes, and gratuities. For booking and more info, visit monstersofrockcruise.com and connect on Facebook/a> and Twitter.
Confirmed line-up for the 2017 Monsters Of Rock Cruise includes: Vince Neil "The Voice of Mötley Crüe," Cinderella's Tom Keifer, Queensrÿche, Night Ranger, Saxon, Stryper, Slaughter, Danger Danger, D*A*D, Soto, Tora Tora, The Answer, John Corabi, Beasto Blanco, Joel Hoekstra, Inglorious, Heavens Edge, Paradise Kitty, with more artists to be announced. Plus, Eddie Trunk and comedian Don Jamieson (VH1's "That Metal Show"), San Francisco bay area radio host Nikki Blakk and Luc Carl (SiriusXM's "Hair Nation") are the official cruise hosts and will moderate Q&A's. Metal DJ Will (Studio DJ for VH1's "That Metal Show") is the official cruise DJ. Watch Vince Neil's cruise announcement below.
In addition to the band performances, the cruise will feature over-the-top special events only experienced on this voyage, including: MOR Artist Photo Experiences, the first MOR Big Game Party hosting the live broadcast of the Monster Football Game on the pool deck big screen accompanied by a few musical surprises and activities, Monsters Rock & Roll Formal, exclusive MOR Craft Beer Tasting, Monster Gong Show Karaoke and Cooking with Rock Stars hosted by Lisa Tirone of Chef it up!, with more events to be announced.