MONSTER ENERGY AND PUNK ROCK & PAINTBRSUHES PRESENT: "CHARLA-PALOOZA" CELEBRATING THE ART OF ANTHRAX DRUMMER CHARLIE BENANTE AND BUTCHER BABIES CARLA HARVEY, SPECIAL GALLERY SHOW TO BE HELD APRIL 15TH-16TH IN LOS ANGELES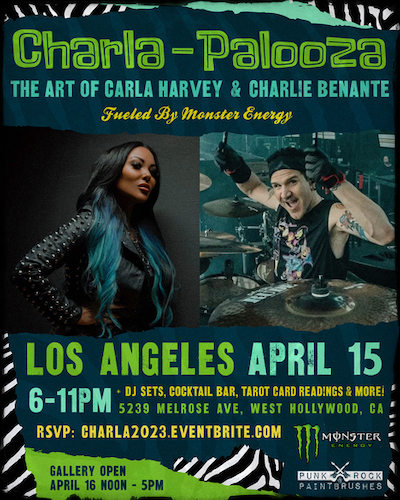 As respected musicians, Anthrax's Charlie Benante and Butcher Babies' Carla Harvey have spent decades touring the globe and amassing diehard fans who love to see them dominate on the stage, but their creativity doesn't stop there. Both are also incredible visual artists and a new gallery show, sponsored by Monster Energy and produced by Punk Rock & Paintbrushes, presents their imagination and expressiveness in a whole new light.
Dubbed Charla-Palooza, the one-weekend-only event will be held in West Hollywood on April 15th beginning at 6 p.m., featuring appearances by both Benante and Harvey as well as DJ sets, a cocktail bar and the chance to buy original artworks. The gallery will also be open on April 16th with a VIP intimate event from 12-2 p.m. with limited-edition prints for all attending, the Punk Rock & Paintbrushes coffee table book signed by both Carla and Charlie, an open Q&A with both artists and complimentary coffee. Both dates are open to the public.
Attendees can RSVP at Charla2023.Eventbrite.com.
Charla-Palooza comes after a 2021 show in Chicago, which marked Charlie Benante's first-ever substantial exhibition of his artwork. He's notably also been behind every Anthrax album cover art the past 30-plus years. In addition to Anthrax, Benante is currently part of the Pantera reunion with several dates planned for 2023.
Carla Harvey is a cartoonist and illustrator whose work has been featured on the cover of Heavy Metal magazine. This event celebrates the release of Harvey's 10th annual anthology of art created on her tours, GASH 10. GASH is a yearly publication of Harvey's artwork.
Read more about Benante and Harvey's artwork and creative processes here via this interview with Forbes, clicking here.