MICHAEL SCHENKER FEST RELEASES VIDEO FOR NEW SONG "ROCK STEADY," ALBUM "REVELATION" TO BE RELEASED ON SEPTEMBER 20TH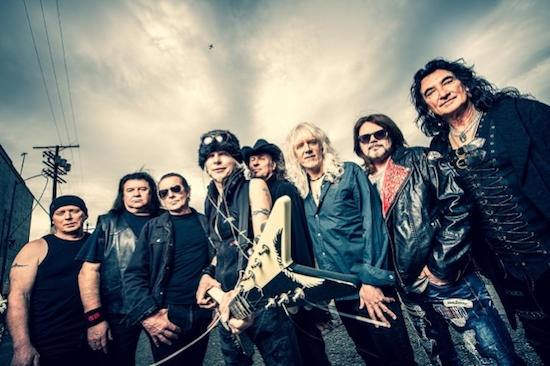 Michael Schenker's Michael Schenker Fest project will release its second studio album, Revelation, on September 20th through Nuclear Blast.
The official video for the disc's first single, Rock Steady, can be seen below.
"This song almost did not make it on the album," says Michael Schenker. "It developed from a 'maybe' into a definite, after we swapped things around like an added solo, psychedelic pieces, the lyrics, the slide plus all the other goodies and sprinkles. It turned out to be a party song telling my story, capturing many aspects of music. It was originally a song for guest musicians to be featured on the album, the ones I had in mind were Ronnie Wood and Mick Jagger; it had that kind of feel. Ronnie actually introduced his family to me in my dressing room in Hammersmith back in the '80s and I've heard he's a fan! So, I had asked my son Taro to knock on Ronnie's door, since they both live in Barcelona, and tell Ronnie to bring Mick with him. The Beatles and The [Rolling] Stones were two of the first bands I got into. I had the pleasure to jam with Paul McCartney on an MSG album. Ronnie and Mick would have closed the cycle, but when Ted [McKenna, drums] passed away we had to focus on other things instead. We ended up scrapping the whole guest idea."
Revelation will be released on a variety of different formats and is ready for pre-order now. It will be available as CD-digipak, 2LP (different colors) as well as a limited box set including CD-digipak, 2LP (red+black splatter), puzzle, poster 60×30, photo cards. 
Revelation track listing (CD-digipak, 2-LP, digital):
1. Rock Steady 
2. Under A Blood Red Sky 
3. Silent Again 
4. Sleeping With The Light On 
5. The Beast In The Shadows 
6. Behind The Smile 
7. Crazy Daze 
8. Lead You Astray 
9. We Are The Voice 
10. Headed For The Sun 
11. Old Man 
12. Still In The Fight 
13. Ascension
Bonus:
14. Armed And Ready (live) 
15. Bad Boys (live) 
16. Rock Bottom (live)
"Based on the fun that we had recording Resurrection, the success of the album and the surrounding tours we undertook that were just fantastic, I was deeply inspired to make a start on writing new songs for a new Michael Schenker Fest album," said Schenker. "It is even a step up from Resurrection, with amazing input from all singers and all musicians. I could not ask for a better result. The songs are blazing, snappy, energetic, melodic and with drummers like Simon Philips and Bodo Shopf, we got amazing results. This time we even managed to record three great mid-tempo songs with all singers involved, singing their hearts out."
Regarding the title, Schenker said, "The album title and cover concept expresses things that have happened in my past as well as what is still happening at the present time. It's about passion and purity versus greed and corruption. There is much to say. It's about time I let people know about some of this."
Besides the four vocalists — Gary Barden, Graham Bonnet, Robin McAuley and Doogie White — Schenker also reveals a guest singer on one track. "An incredible thing happened; we had this song that was ready to be worked on and Michael Voss suggested Ronnie Romero from Ritchie Blackmore's Rainbow, who Voss had worked with in the past, to sing on this song as a guest," Michael said. "What came out of it was classic. Amazing vocals with blazing music that absolutely rocks."
He continued, "We are ready to present this unique album to the world and I am very much looking forward to getting this album out there. Our label Nuclear Blast is totally happy with this record and I was especially happy getting a message from Markus Staiger, the founder of Nuclear Blast, saying how much he loves this album."
Michael Schenker Fest recently completed a U.S. tour.