MICHAEL SCHENKER DISCUSSES HIS TIME IN UFO; ON THE PASSING OF BASSIST PETE WAY HE SAYS, "ABSOLUTELY SHOCKING…PETE WAS THE NICEST GUY I KNOW"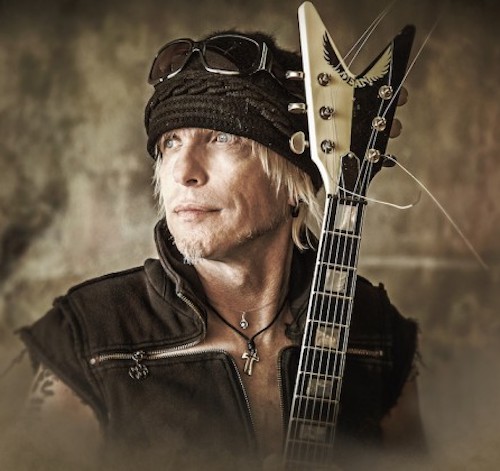 Eonmusic spoke with legendary guitarist Michael Schenker, highlights from the interview appear below.
Eonmusic: …How did the Michael Schenker Fest format come about?
Michael Schenker: All of a sudden I realised that the '80s singers [that I'd worked with] singing to my new, original compositions, would be something I hadn't done. I'd had all these different singers singing everybody else [earlier material they hadn't recorded], so I got excited about that, but I thought; 'Oh, I'm not sure if that's going to be possible, but let's see.' So we called up Robin [McAuley] and everybody one by one, and already, it was as if they were waiting for it. Basically, it felt like that would be something to do next, and by everybody being very invested in it, we did the dvd [Live: Tokyo International Forum Hall A, 2017] to show the world the potential of the Michael Schenker Fest with three singers from the '80s.
Eonmusic: How was it getting all those egos to work together?! 
Michael Schenker: No. Problems. At. All..
Eonmusic: Your new album Immortal sees you resurrecting the [Michael Schenker Group] MSG moniker; why was the timing right for you to do that now?
Michael Schenker: You know, everything starts with Michael Schenker Group, number one. From the moment after I helped the Scorpions out with the Lovedrive album [1979], I went my own way. Peter Mensch [manager] found out and he wanted to do business, and he sent me straight to Aerosmith, "What am I doing with Aerosmith?," and UFO would probably have been one of the biggest bands in the world if I had stayed with them, but for me, it was time to carry on with my own vision.
Eonmusic: A large part of your roots must surely be embedded in UFO?
Michael Schenker: There was a very unique chemistry between what Phil Mogg's voice did, what I did, and then what Pete Way did, and what the drummer, Eddie Parker did, and then Paul Raymond [keyboards / guitars], eventually. So, for me it was the chemistry that you cannot buy a book about. It was such a perfect chemistry, but I was not ever chasing fame, or success or anything like that; it was not something that I wanted to continue doing; that's why I left in the first place.
Eonmusic: Immortal sees you celebrate your 50th anniversary as a recording artist.
Michael Schenker: Basically, the whole story of how the whole album developed was at the end of 2019, I realised that 2020 was the first time I'd put a note on a recording, at the age of 15, and it was also my first musical composition on the Lonesome Crow [Scorpions, 1972] album. On the original credits it was complete misinformation; it should have said; 'Michael Schenker – music', and whoever wrote did lyrics.
Eonmusic: You're talking about the track In Search of the Peace of Mind, and you've actually re-recorded it for this album.
Michael Schenker: You know, I was so shocked, and I'm still shocked today listening to back to the original solo on In Search of the Peace of Mind on Lonesome Crow. I don't understand where that perfect solo came from, as a fifteen year old. I mean, you can hear on the rest of the album I'm only fifteen years old, I'm an amateur, I'm developing, I'm making my way forward; but why was that solo so perfect? I would never change a note in a thousand years. So, you know, I copied that solo for the version on the fiftieth anniversary, because it's a miracle, it really is. It's so ironic that the song was called In Search of the Peace of Mind, which was the theme of my life; looking for contentment, peace, and freedom and fulfillment etc. And being the first composition I ever recorded, and with a solo like that, you know, it just had to become the fiftieth anniversary celebration song.
Eonmusic: …I wanted to ask about your reaction to the passing of [UFO bassist] Pete Way; that must have been sad, but not entirely shocking for you.
Michael Schenker: Absolutely shocking. Pete was the nicest guy I know. It was such a loss. I mean, maybe not surprising, as you say, because at some point he lost control and went down the hill. But Pete Way, the born star, was something else. He was an inspiration for the world. I had his doctor's number over the years, to help him to get his feet on the ground, but it seems like, for him, there was no way back. In my mind, I would think some days; 'Well, I wonder how Pete is?,' and one day; bang, and I was absolutely shocked. 
Eonmusic: The last time you worked together was in the mid-'90s to the early 2000's, which was an unstable period for UFO, and for yourself as well, wasn't it?
Michael Schenker: It was very unstable for only one person, and that was Phil Mogg. He came to Los Angeles in '93, begging me to refuel UFO because he had completely destroyed it. He was paranoid; he was running away from people. He came to Los Angeles with his manager, and in the same month, I got an offer for Deep Purple as their number one choice, and I got a call from Rudolph [Schenker] to help the Scorpions in Europe and Japan to sell tickets, but of course Rudolph is a trickster, and I ended up only playing acoustic guitar. He wanted to make it look like it was a Scorpions reunion, but he doesn't want to give any credit to me for the Scorpions – he wants to own it all.
Eonmusic: So you had plenty going on without having to consider an offer to reform UFO?
Michael Schenker: Yes. And just before they showed up, I had an incredible offer from Japan, for a record for MSG, and I accepted it. 
Eonmusic: So how did your rejoining come about?
Michael Schenker: Well, Phil asked me; "Michael, can you refuel?!', and I said I have a few conditions; one is, you have to give me 50% of the UFO name, so you don't destroy it again, especially if I put my energy into it. The other one was that we sell it ourselves on the road, because I had big success with the Thank You album, where I was earning all the money that all the managers and the business people wouldn't have offered. I became rich, so I wanted UFO to experience the same, and then I said; "it can only happen with the original line-up. There is no way that I will do it any other way". It had to include; Paul Raymond, Andy Parker, Pete Way, myself, and Phil. 
Eonmusic: So the 1993 MSG record was clearly not going to happen, in that case.
Michael Schenker: When Phil Mogg shows up, I called up the record company and said; 'I have a situation here'. I mean, I hadn't sent a signature yet, but I said; 'I will accept this MSG offer if you give me the same record deal for UFO,' and they agreed. So, I swapped it around; I made UFO my number one priority, put MSG on hold, and said to Phil; 'Okay, I have a deal, we are ready to go?' So, I put all my compositions together, and I tell you, when I saw Phil the next time when we started recording, he looked like an one hundred and eighty degree different person. He was happy, healthy; he was unbelievably fit.
Eonmusic: How was the recording session for what became Walk on Water [1995]?
Michael Schenker: Everybody in the studio had a great time. I mean, Walk on Water was a blessing after seventeen years. It was such a beautiful record that famously carried on from Strangers in the Night [1979]. And then of course we went on the road, and then Phil lost it, and wanted control again and destroyed everything. I always said to him; 'Never do a reunion with UFO unless it's the original set up, including the producer.' Because if you take one piece out, the chemistry is finished.
Eonmusic: What followed was another unstable time.
Michael Schenker: Mike Varney, from America, he asked me to do something with him [Adventures of the Imagination, 2000], but then he approached UFO as well, and I said to Phil; 'Don't do this. It will backfire. It will not succeed,' and it did not. It became Sharks [2002], and even though we had Aynsley Dunbar on drums – a fantastic drummer – the chemistry was destroyed. The natural flow of the chemistry, with Covenant [2000] and Sharks, was destroyed, and basically, we were just limping towards the end. I'd had enough of UFO at that point, and in 2002, Phil Mogg asked me; 'Michael, I need the name UFO back.' I said to Phil; 'You know what? God bless you. I'll give you the name back for free. Enjoy your life.' And then, that was it. That was the end of it.
Eonmusic Most people know that you were approached by Ozzy Osbourne and a host of others over the years, but are there any others that people don't know about?
Michael Schenker: I have; Ian Hunter, Phil Lynott, Motorhead, Deep Purple, Whitesnake… it's endless! I had to decline everybody, even though I am the biggest Ozzy Osbourne fan.
Eonmusic: Looking forward, and what does the future hold for Michael Schenker?
Michael Schenker: You know, am I going to be waking up tomorrow morning? I don't know, so I take things in the now. Everything I do really, is based on circumstances, on a daily basis. I always go by what today shows, and I get inspired by that. That's how I live. I don't know what happens tomorrow, you know? 
Read more at Eonmusic.
Watch Michael Schenker's lyric video for Sail The Darkness, from his latest album, Immortal, here.