METALLICA WORRY ABOUT THE FUTURE OF ROCK MUSIC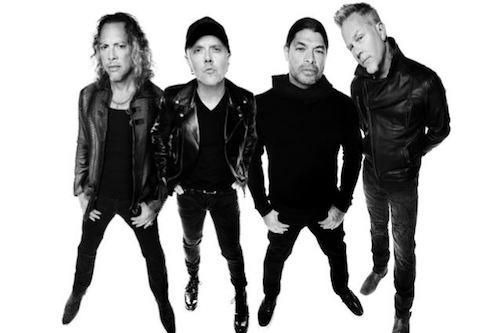 Metallica are worried about the future of rock music after they've gone, they've revealed.
The band discussed their concerns in a question-and-answer session with fans on Sirius XM as they continue to promote upcoming album Hardwired… To Self-Destruct.
Despite name-checking several rising-star acts, they expressed fears over what will happen to the heavy music genre in the future.
Frontman James Hetfield said he hadn't heard much inspirational material recently, saying, "Where's the syncopation? Where's the heart? I get mad.
Hopefully somebody will be like me and just come up with something, and be the next cool different thing. Someone's got to get pissed off enough to write something different."
Drummer Lars Ulrich recommended Savages, saying, "Talk about pissed off – they're insane. They're this punky, super-dark, Siouxsie And The Banshees dark, weird Euro punk. They're a little different."
Guitarist Kirk Hammett said, "I saw a video for a band that really impressed me. Their name is kind of difficult – you pronounce it 'Horror' but it's H09909." But he went on, "Where's the new generation of arena bands? Can anyone answer that?"
Bassist Robert Trujillo reported that he'd discussed the future with Black Sabbath counterpart Geezer Butler, saying, "I ran into him on a flight from London and he was like, 'Who's going to carry the torch? When Metallica's done and we're done, who will it be?' I was like, 'Let me think about that.'"
In other Metallica news, the band has revealed that the song, Murder One, from Hardwired…To Self Destruct, is about Motorhead frontman, Lemmy Kilimister, who passed away on December 28th, 2015.
Hatfield says, "Motorhead had a lot to do with Metallica sitting here right now. But just Lemmy, as kind of a father-figure, he helped us a lot. He was unafraid. He was a character. He was himself. He did his own thing to the last breath. No matter who you are, how could you not be inspired by that?"
Hardwired… To Self-Destruct is scheduled for release on November 18th.
source: Metal Hammer via teamrock.com