METALLICA PLAY "KILL 'EM ALL" IN ITS ENTIRETY AT THE ORION FESTIVAL IN MICHIGAN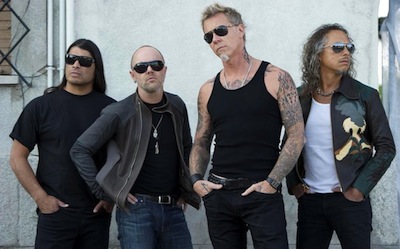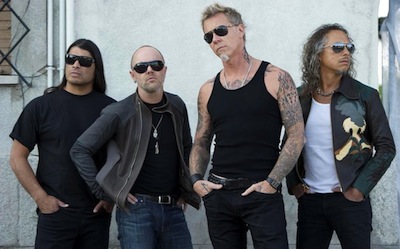 Metallica stunned fans at the first day of their Orion Music + More Festival by appearing on the second-smallest stage to perform debut album Kill 'Em All in full.
The official schedule had listed a band called Dehaan to play at 4.30pm on the first day of the thrash giants' event in Belle Isle, Detroit, Michigan.
But minutes before the unknown outfit were to take to the fourth stage of five, Metallica frontman James Hetfield posted on Instagram: "Don't miss Deehan! #MUYA #mff #UwillRegretMissingThem #IfUdoUmightKillEmAll #winkWink #getIt?"
Soon afterwards he appeared on the before a medium-sized crowd, while the Deehan backdrop had been crossed out with red paint and the slogan "Metal up your ass" sprayed above. Hetfield said, "Good morning – whatever it is. I'm here to introduce Dehaan. Does anyone know who they are? They're from Baltimore. A totally mystery band that no one knows anything about, except us."
Seconds later he was joined by Lars Ulrich, Kirk Hammett and Robert Trujillo, and they launched into a delivery of all 10 tracks from 1983′s Kill 'Em All, staring with Hit The Lights and ending with Metal Militia, including the first full performance of (Anesthesia) Pulling Teeth since 1986. Fans were seen running from all directions as they became aware what was going on. The performance lasted 45 minutes.
Metallica have a history of playing surprise sets. In 2009 they were listed as Volsung at the South By Southwest festival. The previous year just 175 people saw them performing at a Nashville club. In 2003 they appeared unannounced on the second stage at Download. In the past they've been billed as The Four Horsemen, Frayed Ends and Spun.
The first day of Orion was headlined by the Red Hot Chili Peppers, while tonight's acts include Deftones, Rocket From The Crypt, Death and Gogol Bordello, with Metallica themselves closing the second annual event.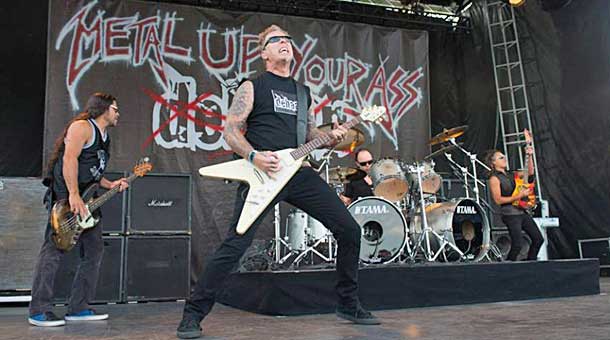 source: classicrockmagazine.com