METAL MELTDOWN CELEBRATES 25TH ANNIVERSARY OF EXTREME'S "PORNOGRAFFITTI" WITH "PORNOGRAFFITTI LIVE 25/METAL MELTDOWN" BLU-RAY/DVD/CD SEPTEMBER 23RD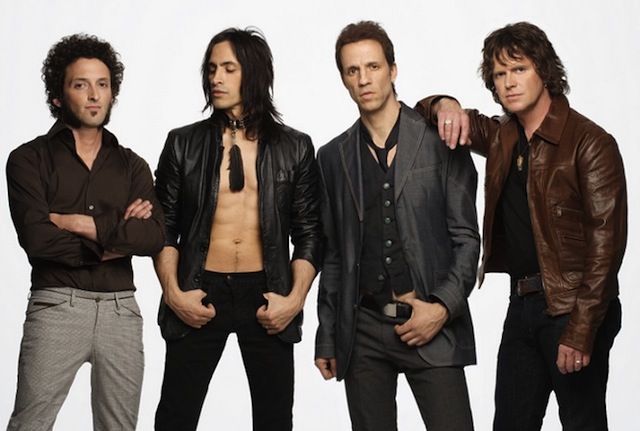 Last year marked the 25th anniversary of Extreme's classic multi-Platinum, Grammy® nominated Pornograffitti, the definitive album of the band's career. To mark the anniversary, Pornograffitti Live 25/Metal Meltdown will be released September 23rd by the award-winning production company Rock Fuel Media in association with Loud & Proud Records as part of their four-part "Metal Meltdown" DVD series. The concert film captures the Boston band performing the album Pornograffitti in its entirety.
Directed by Brian Lockwood (Bon Jovi, Metallica, Motley Crue), the Pornograffitti Live 25/Metal Meltdown package includes a Blu-ray, DVD, and audio CD of the complete concert that was filmed on May 30th, 2015 at The Joint at the world famous Hard Rock Casino in Las Vegas. It also features Rockshow, a bonus documentary that takes fans through Extreme's story, with exclusive interviews, '80s archive footage, and an exclusive photo gallery. Mixed in 5.1 Surround Sound, it's set for release September 23. A trailer can be seen below.
"It was a great thrill to perform Pornograffitti in its entirety," says singer Gary Cherone. "Some of these songs were never played live before so we had to go back and relearn them for the tour. The album was a watershed moment in the bands career…it's when we came in to our own and it will always be special."
As guitar virtuoso Nuno Bettencourt continues, "The band always prided itself on its live performance. Over the years, some of these songs have evolved where the band actually plays them better now than when we had recorded them. Hope you enjoy it."
Award-winning producer Barry Summers of Rock Fuel Media commented, "It was a real privilege to produce Pornograffitti Live 25/Metal Meltdown in celebration of Pornograffitti, to have the opportunity to work first-hand with such high caliber musicians and audio purists. Over 25 years after this iconic album was released, we captured the band at their very best. Watching Nuno Bettencourt's off-the-charts guitar solos is simply mind-blowing, as confirmed by Queen's Brian May and Aerosmith's Steven Tyler, whom we filmed paying homage to the Guitar God himself in the RockShow documentary. One of the highlights of the documentary is a moment where Gary and Nuno are sitting on the doorstep of Gary's childhood home, and they perform a spontaneous version of More Than Words."
Here's the complete song listing of Pornograffitti Live 25/Metal Meltdown:
1. Decadence Dance
2. Li'l Jack Horny
3. When I'm President
4. Get the Funk Out
5. More Than Words
6. Money (In God We Trust)
7. It ('s a Monster)
8. Pornograffitti
9. When I First Kissed You
10. Suzi (Wants Her All Day What?)
11. Flight of the Wounded Bumble Bee
12. He-Man Woman Hater
13. Song For Love
14. Hole Hearted
15. Play With Me*
16. Cupid's Dead*
* Songs do not appear on the audio CD.
Extreme online:
extreme-band.com
facebook.com/extremeband
twitter.com/ExtremeBand
instagram.com/extreme_band
youtube.com/user/OfficiallyExtreme