MEGADETH RELEASE VIDEO FOR "POST AMERICAN WORLD"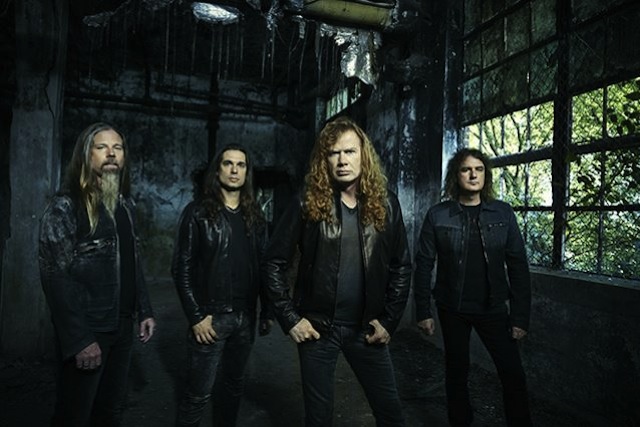 Megadeth have released a video for Post American World from their latest album Dystopia. Watch it below.
The clip features Lamb Of God drummer Chris Adler, who guested with Dave Mustaine's band for their 15th record – and who's now been replaced permanently by Dirk Verbeuren.
Muscatine says, "Post American World was an eerie video shoot right from the beginning. Shot in just one day with only our guitars and drums, I knew that this was going to be amazing. There's something to be said about the simplicity of an artist and only his guitar or drums. This is a less-is-more concept, and director Jake Macpherson nailed it."
Megadeth have also confirmed a new run of North American tour dates, which also feature Amon Amarth, Suicidal Tendencies, Metal Church and Havok.
The 18-show run begins on September 20th, with tickets going on sale, July 22nd. Megadeth were forced to cancel the last two dates of their current European tour after bassist David Ellefson broke his foot.
Meanwhile, Verbeuren's former band Soilwork have wished him well with his new position. Vocalist Bjorn "Speed" Strid says, "Together we have created a beast of a band. I strongly believe this is very much a new era for us – and that we still have so much left to say."
Megadeth North American tour with Amon Amarth, Suicidal Tendencies, Metal Church and Havoc:
Sep 20: Casper Events Center, WY
Sep 22: Las Vegas Joint, NV
Sep 24: Devore San Manuel Amphitheater (Ozzfest), CA
Sep 27: Seattle WaMu Theater, WA
Sep 28: Eugene Matthew Knight Arena, OR
Sep 29: San Jose City National Civic, CA
Oct 1: Bloomfield 1st Bank Center, CO
Oct 3: Council Bluffs Mid American Complex, IA
Oct 4: St Pail Roy Wilkins Auditorium, MN
Oct 5: Chicago Sears Centre, IL
Oct 7: Moline iWireless Centre, IL
Oct 8: Milwaukee UWM Panther Arena, WI
Oct 9: Detroit Loe Louis Arena, MI
Oct 11: Bethlehem Sandes Event Center, PA
Oct 12: Worcester DCU Center, MA
Oct 13: Uncasville Mohegan Sun Arena, CT
Oct 14: Newark Prudential Center, NJ
Oct 16: Camden BB&T Pavilion, NJ
additional source: Metal Hammer via teamrock.com