MANOWAR ANNOUNCE 2016 TOUR NAME AND CONFIRM NEW DATES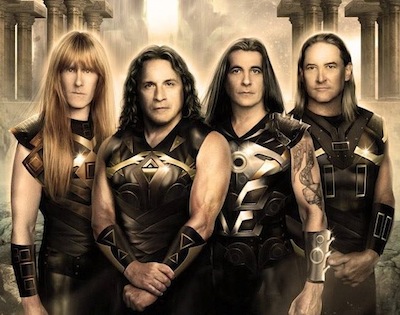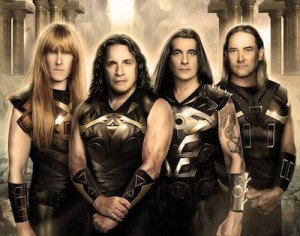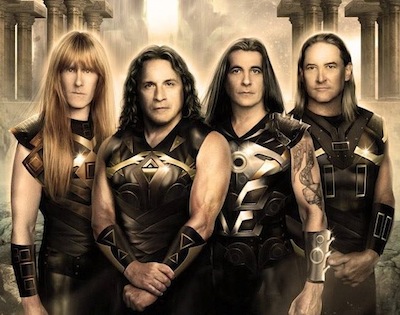 Manowar have confirmed two additional dates for their Gods And Kings World Tour 2016:
Friday, February 19, 2016 @ Sala Polivalentă – Cluj-Napoca, Romania
Sunday, February 21, 2016 @ Romexpo – Bucharest, Romania
These dates not only mark Manowar's triumphant return to Romania, but also their first ever performance in Cluj-Napoca (commonly known as Cluj), located in the northwestern part of the country, in the historical region of Transylvania.
"The Army of Romanian Manowarriors is growing!" said Joey DeMaio. "It is no secret that Romanian Manowarriors are the most powerful fans in Romania. Anyone who has seen them knows it's a fact; so our return to Bucharest is like returning home to our Romanian metal family. And for the first time ever we'll be performing in Transylvania! I've personally been to Transylvania many times and I have also been to Cluj several times. You can be sure these shows are going to be very special. Not only for the Manowarriors but for us as well."
Manowar have revealed the name of their upcoming tour: Their new metal onslaught is titled "Gods And Kings World Tour 2016".
"In the Manowar universe bigger is better!" said Joey DeMaio. "If you think the Kings Of Metal tour was massive, just imagine what is going to happen when we join forces with the earth-cracking Gods Of War!"
The tour will celebrate Kings Of Metal MMXIV, which many fans haven't had a chance to experience live yet, as well as the upcoming anniversary of Gods Of War, which was unleashed on the world in 2007.
Along with this announcement Manowar have confirmed a series of additional dates for the first leg of the Gods And Kings World Tour 2016:
Mon, February 08, 2016 Tallinn, Estonia – Rock Cafe
Tue, February 09, 2016 Riga, Latvia – Palladium
Wed, February 10, 2016 Vilnius, Lithuania – Compensa Koncertų Salė
Fri, February 12, 2016 Tampere, Finland – Pakkahuone
Sat, February 13, 2016 Helsinki, Finland – The Circus
We will once again push man, machine and metal beyond all standards." said MANOWAR. "This tour will be devastating! If you have metal in your veins, you don't want to miss it!"
Gods And Kings World Tour 2016 – Confirmed Tour Dates:
Thu, January 14, 2016 – ČEZ Aréna – Ostrava, Czech Republic
Fri, January 15, 2016 – Kajot Arena – Brno, Czech Republic
Sat, January 16, 2016 – Torwar Hall – Warsaw, Poland
Mon, January 18, 2016 – Aegon Arena Bratislava, Slovakia
Tue, January 19, 2016 – Forum Karlín – Prague, Czech Republic
Wed, January 20, 2016 – Forum Karlín – Prague, Czech Republic
Fri, January 22, 2016 – Zenith – Munich, Germany
Sat, January 23, 2016 – Jahrhunderthalle – Frankfurt, Germany
Sun, January 24, 2016 – Thüringenhalle – Erfurt, Germany
Wed, January 27, 2016 – Tempodrom – Berlin, Germany
Fri, January 29, 2016 – Porsche Arena – Stuttgart, Germany
Sat, January 30, 2016 – ISS Dome – Düsseldorf, Germany
Sun, January 31, 2016 – SCC – Aarhus, Denmark
Tue, February 2, 2016 – Konserthus – Stavanger, Norway
Fri, February 5, 2016 – Älvhögsborg – Trollhättan, Sweden
Sat, February 6, 2016 – Fryshuset Arenan – Stockholm, Sweden
Mon, February 8, 2016 – Rock Café – Tallinn, Estonia
Tue, February 9, 2016 – Palladium – Riga, Latvia
Wed, February 10, 2016 – Compensa Koncertų Salė – Vilnius, Lithuania
Fri, February 12, 2016 – Pakkahuone – Tampere, Finland
Sat, February 13, 2016 – The Circus – Helsinki, Finland
Fri, February 19, 2016 – Sala Polivalentă – Cluj-Napoca, Romania
Sun, February 21, 2016 – Romexpo – Bucharest, Romania
For more information and tour updates, please visit manowar.com or facebook.com/manowar