LED ZEPPELIN'S "STAIRWAY TO HEAVEN" COPYRIGHT LAWSUIT REJECTED BY COURTS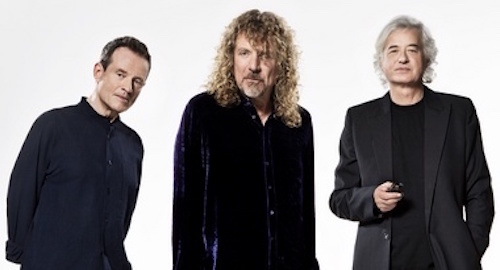 Newsweek reports:
The United States' Ninth Circuit Court of Appeals has decided in favor of Led Zepplin and rejected the copyright lawsuit over the 1971 song, Stairway to Heaven. The court's decision affirmed that the English rock band had not stolen from Spirit's 1968 single, Taurus, in order to to create their popular track.
A jury had previously sided with Zepplin back in 2016. In the copyright dispute, the appellate court attempted to undo the trial's decision and continue the argument with a wider panel of judges. The 9th Circuit did not object to the 2016 jury being restricted from listening to the sound recording of Taurus during trial, according to Billboard.
Bill Donahue, a reporter from Law360, tweeted snippets of the 73-page court document online. The document stated, "We affirm the judgement that Led Zeppelin's 'Stairway to Heaven' did not infringe Spirit's Taurus.
On August 16th, 2016, Zepplin's Robert Plant testified in court to preserve the song's originality. When asked if he had ever listened to Taurus beforehand, Plant stated, "I didn't remember it then, and I don't remember it now," per Rolling Stone.
On June 25th, 2016, Jimmy Page, the Led Zeppelin guitarist, also testified that he had not copied any key musical notes. Among his collection of 4,000 vinyl records, he owned five discs by Spirit. Page admitted he first heard Taurus on the internet back in 2014; according to CNN.
Read more at Newsweek.
Related stories:

SPIRIT COPYRIGHT INFRINGEMENT SUIT AGAINST LED ZEPPELIN TO GO BEFORE A JURY ON MAY 10TH

LED ZEPPELIN COPYRIGHT TRIAL BEGINS IN LOS ANGELES

LED ZEPPELIN SEEKS RESTITUTION IN COPYRIGHT INFRINGEMENT LAWSUIT

LED ZEPPELIN'S "STAIRWAY TO HEAVEN" MAY FACE PLAGIARISM SUIT

LED ZEPPELIN LOSES FIRST ROUND IN "STAIRWAY TO HEAVEN" PLAGIARISM SUIT

LED ZEPPELIN'S ROBERT PLANT AND JIMMY PAGE TO ATTEND "STAIRWAY TO HEAVEN" COPYRIGHT TRIAL IN CALIFORNIA ON JUNE 14TH

LED ZEPPELIN TRIUMPH IN "STAIRWAY TO HEAVEN" PLAGIARISM TRIAL

AFTER THE VERDICT IS TOSSED, LED ZEPPELIN MUST RETURN TO COURT OVER "STAIRWAY TO HEAVEN" COPYRIGHT LAWSUIT