LED ZEPPELIN COPYRIGHT TRIAL BEGINS IN LOS ANGELES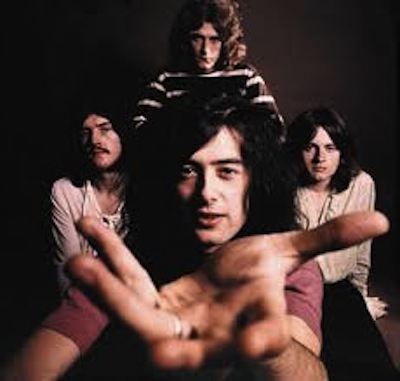 Joel Rubin and Randy Lewis of the Los Angeles Times reports:
Led Zeppelin's rock veterans Jimmy Page and Robert Plant sat solemnly next to their attorneys Tuesday morning as a jury was selected downtown for a federal copyright trial where they are defending their 1971 epic Stairway to Heaven against claims that they lifted a key riff from another band.
The rock icons wore suits and both had their long hair pulled back in ponytails.
The jury was evenly split between men and women and varied considerably in age, with some appearing to be in their 20s and others in their 50s or 60s.
…At issue is whether the British band nicked Stairway's famous opening passage, which evokes centuries-old Renaissance folk music, from L.A. rock outfit Spirit. The two bands shared some concert billings when Led Zeppelin was in its infancy.
A loss for Led Zeppelin could mean millions of dollars in royalties going to the estate of Spirit guitarist and songwriter Randy Craig Wolfe, aka Randy California, for one of the most recognized and played recordings of the rock era.
It's the highest-profile infringement case to make it to the courtroom since last year's suit in which R&B-soul singer Marvin Gaye's family was awarded $7.4 million by a jury that decided pop stars Robin Thicke and Pharrell Williams' monster hit Blurred Lines had infringed on Gaye's Got to Give It Up. A judge later reduced the award to $5.3 million.
The common ground between Stairway to Heaven and Taurus largely comes down to a 10-second musical theme that appears 45 seconds into Taurus, an instrumental from the band's 1968 debut album, which is similar to the opening acoustic guitar pattern on Stairway. That song was released three years before Stairway to Heaven surfaced on Zeppelin's untitled fourth album, commonly referred to as Led Zeppelin IV.
Zeppelin surviving members — Page, Plant and John Paul Jones – and their legal team are expected to argue that the similarity is nothing more than coincidence between musicians working in a field rooted in commonly used and reused musical ideas. Or they may attempt to cite earlier precursors to both songs from the public domain, which could render moot the Wolfe estate's copyright claim.
Page, Plant and Jones are all included as witnesses in court filings and are expected to testify. The judge has dismissed Jones as a plaintiff.
The case is being closely monitored in the music business because it involves not only one of the most recognizable songs in the rock repertoire, but also one of the most lucrative. In 2008, Conde Nast's Portfolio estimated that "Stairway to Heaven" had generated $562 million in publishing royalties and record sales since its release.
Led Zeppelin's lawyers said both bands simply relied on a "centuries-old, common musical element" that is not protected by copyright law. Klausner disagreed, saying he found that "the similarities here transcend this core structure."
For jurors, it will not be as easy as simply listening to full recordings of the two songs. Because copyright law protects only the composition that a songwriter submits in writing to the country's copyright office, jurors will hear a stripped-down version of "Taurus" that is likely to make parallels between the two songs less pronounced.
source: latimes.com