GIUFFRIA AND HOUSE OF LORDS', LANNY CORDOLA'S CHARITY, THE MIRACULOUS LOVE KIDS/GIRL WITH A GUITAR, RELEASE VIDEO FOR "SWEET DREAMS" FEATURING TOM MORELLO, KATHY VALENTINE, CHERIE CURRIE, VICKI PETERSON, WAYNE KRAMER AND OTHERS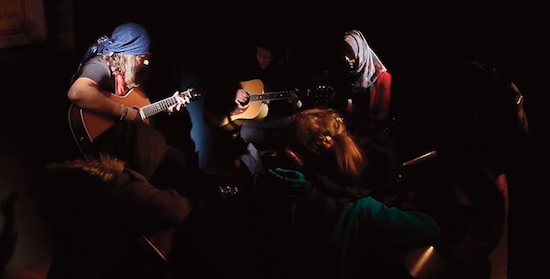 In 2018, Lanny Cordola (Giuffria, House Of Lords), founder of The Miraculous Love Kids/Girl With A Guitar, released Love and Mercy with the song's writer and the Beach Boys founding member Brian Wilson. Two years later, The Miraculous Love Kids/Girl With A Guitar have recorded a follow up-a rewired rendition of the Eurytyhmics number-one hit Sweet Dreams.
For their latest release, some of the world's most prominent musicians, including Tom Morello (Rage Against The Machine, Audioslave), keyboardist Rami Jaffee (Foo Fighters), bassist Kathy Valentine (The Go-Go's), guitarist Vicki Peterson (The Bangles), singer Cherie Currie (The Runaways), guitarist Wayne Kramer (MC5), drummer Kris Myers (Umphrey's McGee), along with singer Inara George and multi-instrumentalist Greg Kurstin of The Bird and The Bee, have come together with he Miraculous Love Kids to share their take on this classic song with unprecedented depth and dimension.
"I feel a moral and spiritual imperative to awaken humanity, in particular my brethren in the music community to help give a voice to the horrible plight of poverty-stricken, war-torn girls," Lanny explains. "Why girls? Because they have it the worst-forced into childhood marriages, stripped of their rights, and exploited in every way imaginable."
When asked why he chose Sweet Dreams, Lanny conjures a ruminative reply, "We wanted to do something moody-a kind of gothic hymn-and we gravitated towards the dark yet hopeful spirit of this song. The lines in the song-'some of them want to use you, some of them want to get used by you, some of them want to abuse you, some them want to be abused'-really resonate, reflecting these troubled times. But then a glimmer of optimism-'hold your head up…keep your head up'-gently flows through the voices of these girls who have experienced the worst that humanity has to offer."
Tom Morello adds, "This is so amazing. Thank you for the honor and blessing of being able to create music with these brave girls."
The she heard about the cause, Kathy Valentine-who released her memoir, All I Ever Wanted, in April, then reunited with The Go-Go's for a Showtime documentary about the band-immediately stepped up. "I watched all the videos, looked at the entire website, and read all the press. After doing all that, I decided I wanted to be of service to The Miraculous Love Kids."
As an original member of The Bangles Vicki Peterson can definitely relate to the ambition of being a girls with a guitar. "This was a singular honor for me to be part of and I would love to be involved further."
Foe Wayne Kramer, who pioneered American hard rock with MC5 in the late 1960s, the experience of playing with The Miraculous Love Kids was simply "inspirational."
Lanny has the final word, "The girls are learning about the world through Rock n' Roll, and have begun discovering the wonders and magic of the guitar from this incredible cast of soul-filled musicians from America, who all offered their services with great generosity and enthusiasm."
Watch the video for Sweet Dreams below.
The Miraculous Love Kids is a non-profit, 5019(c)(3) organization established by musician Lanny Cordola. For more information and to make a donation, please visit miraculouslovekids.org.