L.A GUNS POST VIDEO FOR NEW SONG "SPEED," ANNOUNCE TOUR DATES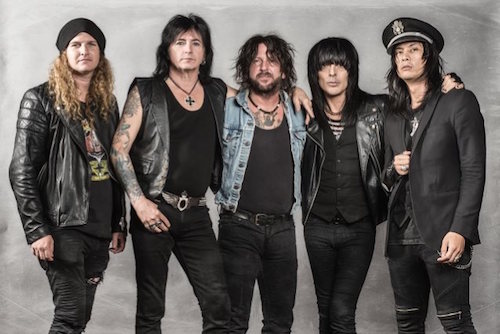 As the revival of the classic '80s hard rock and heavy metal scene continues unabated here in the 21st century, one reunion has been at the top of the wishlists of many a fan for a long time: the songwriting combination of Tracii Guns and Philip Lewis under the L.A. Guns banner. What once seemed like a distant memory with no hope of returning has now come around and fans are about to be rewarded for keeping their fingers crossed and their hopes up.
Today, the first video for the album's debut single, Speed,has been released. Watch the video below.
Guns describes the song as "a response to the extremely fast-paced 'I want it now!' world we are living in." Hard rock aficionados should keep their ears opened for a nod to the great Deep Purple's legendary track Highway Star in one of the verses.
L.A. Guns' new album, The Missing Peace, on October 13th through Frontiers Music Srl.
The Missing Peace track listing:
1. It's All The Same To Me
2. Speed
3. A Drop Of Bleach
4. Sticky Fingers
5. Christine
6. Baby Gotta Fever
7. Kill It Or Die
8. Don't Bring A Knife To A Gunfight
9. The Flood's The Fault Of The Rain
10. The Devil Made Me Do It
11. The Missing Peace
12. Gave It All Away
"The Missing Peace' is truly an album by definition," said Guns. "It's a collection of music that I have been working on for about twelve years with various styles of rock music. From blues to classical influences, these are all hard-hitting songs. I am very proud of all of the contributions to this album by other members and writers. L.A. Guns fans are in for a treat."
Catch L.A. Guns on Tour:
7/21: Los Angeles, CA @ The Whisky
7/23: Colorado Springs, CO @ The Black Sheep
7/25: Joliet, IL @ The Forge
7/27: Hartford, CT @ Webster Hall
7/28: Worcester, MA @ The Palladium (Upstairs)
7/29: Garwood, NJ @ Crossroads
8/1: Buffalo, NY @ Buffalo Iron Works
8/2: New York, NY @ Gramercy Theatre
8/4: Cincinnati, OH @ Bogart's W/Jack Russell's Great White and Junkyard
8/5: Warrendale, PA @ Jergel's
8/6: Battle Creek, MI @ The Music Factory
8/8: Waterloo, IA @ Spicoli's
8/9: Sioux Falls, SD @ Bigs Bar
8/11: Three Forks, MT @ Rockin The Rivers Music Festival
9/1: Litchfield, MN @ Meeker County Fair
9/2: Sioux City, IA @ Anthem @ Hard Rock Hotel & Casino
9/23: Lawnton, OK @ Comanche Nation Fair
9/30: Macul, Santiago, Chile @ Santiago Rock Festival
10/6: Salt Lake City, UT @ Liquid Joe's
10/7: Denver, CO @ Herman's Hideaway
10/14: Sacramento, CA @ Holy Diver
10/27: Knoxville, TN @ The Open Chord
10/29: Pekin, IL @ Rock N Skull @ Avantis Dome
12/14: Houston, TX @ Proof Bar
12/31: Los Angeles, CA @ The Whisky W/Faster Pussycat
2018:
1/27: Anaheim, CA @ The Parish @ HOB Anaheim (Namm Event)
2/10: San Juan, Puerto Rico, @ Shannan's W/Loudness
2/11-2/16: Miami, FL @ Monsters of Rock Cruise
2/16: Jacksonville, FL @ 80's In the Park @ Lexington Hotel
2/17: Ft. Lauderdale, FL Culture Room
L.A. Guns online:
Official Website
Facebook
Twitter
Instagram
L.A. Guns 2017 is:
Phil Lewis – Vocals
Tracii Guns – Guitars
Johnny Martin – Bass
Michael Grant – Guitar
Shane Fitzgibbon – Drums