L.A GUNS DRUMMER STEVEN RILEY DISCUSSES KEEL, W.A.S.P AND THE ONE TIME HE, ALONG WITH EDDIE VAN HALEN, WATCHED RANDY RHOADS PLAY LIVE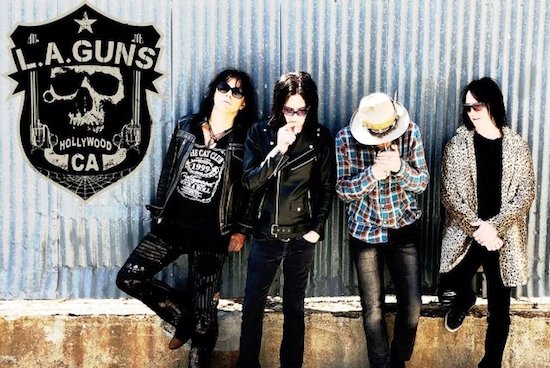 Ruben Mosqueda of KNAC.com spoke with L.A Guns drummer Steven Riley. Excerpts from the interview appear below.
KNAC.com: You played drums on the Kell album The Right To Rock and you left shortly after, but I don't know the story behind your departure.
Steve Riley: I had spoken to Greg Chaisson, the bass player in Badlands, we had done a session together. He said that his brother Kenny Chaisson was in a band called Keel and they were getting ready to head into the studio to record with Gene Simmons and that I should give them a call. So I gave them a call, they liked me and they wanted me to join the band so I joined in time to record The Right To Rock. We did a couple of weeks of pre-production before we went in to record The Right To Rock. We did that one at The Record Plant in L.A., I had completed my drum tracks and was doing some background vocals with Gene. You probably didn't know this, but Gene and I did most of the background vocals on The Right To Rock. While I was working on background vocals in the studio, I received a call from Blackie [Lawless]. He said, "Hey, I'd like you to stop by my house so we can talk." So, I stopped by his place after I got out of the studio. He told me that W.A.S.P. was working on their first album and they were going to have to let their drummer go. It was so ironic because that is what Keel did with their drummer. They had let him go right before they went into the studio to record The Right To Rock. He mentioned that they were getting ready to head to Europe in two weeks and he asked me if I wanted to join the band. I had a hard decision to make. On one hand I was in a great position with Keel, Gene Simmons and A&M Records…I loved those guys and I had to weigh one against the other. In the end I think I made the right call. I wound up playing all of the drums on The Right To Rock and then joined W.A.S.P. I did that about 2-3 weeks after I had completed my drum tracks. It was hard to tell the guys in Keel that I was leaving because they are such great guys. Can you imagine having to choose between two great bands like that? I went with W.A.S.P. and they were under the same management as Iron Maiden so they had this big machine behind them.
KNAC.com: What a streak of albums, [Keel's] The Right To Rock, [W.A.S.P's] The Last Command and [W.A.S.P..'s} Inside The Electric Circus.
Steve Riley: And don't forget Live In The Raw! I played on that too, then after that I joined L.A. Guns like two months later. It was a whirlwind… joining Keel, recording with them, then going out on tour with Blackie and the guys, doing three albums with them and then getting right into L.A. GUNS! [laughs] You have to have a lot of luck and timing also plays a factor I think. You have to be a good player, but you need a lot of luck for the timing to be right. My timing? I was just so fortunate that I was able to go from one band to another band to another band. This just doesn't happen often. I'm so grateful.
KNAC.com: The Last Command is probably the band's better record of the two studio albums that you were on, but I have to say that for me Inside The Electric Circus edges it out, mostly because that was the first time I saw W.A.S.P. live. Which do you prefer?
Steve Riley: I feel that when we recorded Blind In Texas and Wild Child the band was firing on all cylinders. The Last Command has so much depth and so many great songs…then there was the tour. It was just my favorite time in W.A.S.P..Randy Piper was still in the band and we were on fire. I loved their first album, I still remember Blackie playing it for me when I was recording the album with Keel. The Last Command tour with KISS and then with [Iron] Maiden was just great. We also got a chance to do some headlining shows and we got a chance to take some bands out with us. I liked Inside The Electric Circus, I like a lot of the material on that album. It was a different mold, Randy [Piper] was out of the band, the twin guitar attack from Randy and Chris [Holmes] was gone, Blackie was now playing rhythm guitar and Johnny Rod was playing bass. It changed the chemistry of the band. I lean toward The Last Command because it was the classic line-up, it had the two biggest songs that Blackie wrote with Wild Child and Blind In Texas.
KNAC.com: Did you run into or meet Eddie Van Halen? You mentioned you were in L.A. by 1977, which is around the time that Van Halen were gearing up to release their debut album.
Steve Riley: Yeah, this is a weird story. It all came back to me when Eddie passed, another musical giant. So I moved out here in '77, I came out to play with Mickie Jones who was the bass player in Angel. He had just left Angel, I was great friends with those guys, I grew up on the East Coast and I grew up with Frank Dimino, their singer in Boston. Mickie Jones called me and told me that he was forming this band and wanted to know if I wanted to come to L.A. I was living in Indianapolis at the time and was in a band called Roadmaster. I came out in '77 and come to find out, Mickie was great friends with Eddie Van Halen This was before the album came out, they were still playing clubs in L.A. The Angel guys knew Van Halen because they'd hang out together at The Rainbow after their shows. The Angel guys took me to The Whisky to see this band called Van Halen. I got a chance to see them for the first time before their album was even out. I could not believe that band. About a week later Mickie and I are getting ready to go out and he mentioned that Eddie was coming along with us. So, Eddie shows up at my apartment with Mickie Jones to pick me up. Eddie was driving the Van Halen van which was this old cargo van headed to The Starwood to see a band called Quiet Riot with Randy Rhoads. Check it out, we're in the audience, hanging out, Eddie, Mickie and I smoked a bunch of doobs, we're having drinks and we're watching Quiet Riot with Randy Rhoads. Can you imagine?! [laughs] It's just such an insane thought! I had never seen Randy play, he was just burning it up onstage. I looked over at Eddie and asked, "Well, what do you think of this guy"?! At the time I had no idea that there was a little bit of tension between the two, because they were jockeying to be 'king of the clubs'. Anyway, he replied "Oh, he's okay." I think back at that in amazement, because I was there with Eddie Van Halen watching Randy Rhoads before either of them became these "titans of rock." I also remember hearing the Van Halen debut album before it was released. He brought it over to a place that I was living at in the Hollywood Hills. He puts on this cassette with a bunch of writing on it and it was like "Wow." It starts off with Eruption and we hadn't heard anything like that before, it was incredible. I also got a chance to see Van Halen at the Pasadena Civic Center, the album wasn't out yet, but they had "graduated" from the clubs and were playing bigger venues. What great memories.
Read more at KNAC.com.
Steven Riley's version of L.A.Guns released their new album, Renegades, on November 13th. Read more details here.