KISS, OZZY OSBOURNE, MEGADETH, SLAYER, ANTHRAX, AND OTHERS, TO PLAY AT THE "CHICAGO OPEN AIR" FESTIVAL JULY 14TH-16TH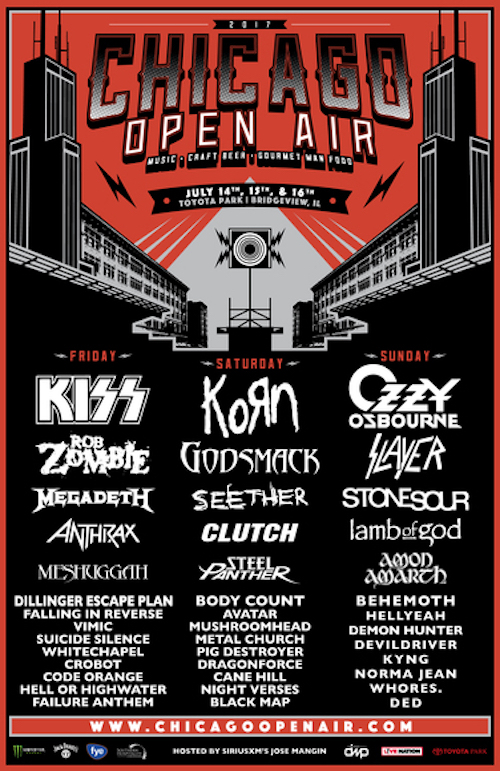 The second annual Chicago Open Air will bring together an all-star lineup of rock's top artists on Friday, July 14th, Saturday, July 15th and Sunday, July 16th at Toyota Park in Bridgeview, IL, just outside Chicago.
The daily band lineup (subject to change) is as follows:
Friday, July 14th: KISS, Rob Zombie, Megadeth, Anthrax, Meshuggah, The Dillinger Escape Plan, Falling In Reverse, Vimic, Suicide Silence, Whitechapel, Crobot, Code Orange, Hell or Highwater, Failure Anthem.
Saturday, July 15th: Korn, Godsmack, Seether, Clutch, Steel Panther, Body Count, Avatar, Mushroomhead, Metal Church, Pig Destroyer, Dragonforce, Cane Hill, Night Verses, Black Map.
Sunday, July 16th: Ozzy Osbourne, Slayer, Stone Sour, Lamb Of God, Amon Amarth, Behemoth, Hellyeah, Demon Hunter, DevilDriver, KYNG, Norma Jean, Whores., DED.
Here's what some of Chicago Open Air's top artists have to say about playing the festival:
Dave Mustaine, Megadeth, "This year's Chicago Open Air festival is going to kick so much ass! I mean, KISS, Megadeth, Anthrax, and Rob Zombie?! If I wasn't playing, I would want to go just to be part of the party!!
Corey Taylor, Stone Sour, "We are beyond stoked to be a part of Chicago Open Air this year. If you've never seen Stone Sour before, you're in for a goddamn treat. If you HAVE seen Stone Sour before, forget what you're expecting. It's a whole new ballgame. See you all soon!"
Randy Blythe, Lamb Of God, "Wassup Chicago! We're stoked to be playing the Chicago Open Air this year. It'll be nice to be outside in Illinois for a change, especially since it won't be 10 below, haha. So come on out and bring your baggies, bikinis and suntan lotion, and surfboards (ok, so you can leave the surfboards at home). See ya there!"
In addition to three days of music, Chicago Open Air's celebration of everything loud will also include Gourmet Man Food featuring local and regional cuisine, the Headbangers Bier Hall highlighting top brews from the region, other entertainment and fan experiences. The weekend gets started with The Chicago Open Air Kick Off Fiesta (details to be announced in February) and the official Chicago Open Air Pre-Party at Concord Music Hall on Thursday, July 13th.
For more information, please visit chicagoopenair.com.