KISS ANNOUNCE DATES FOR THEIR SECOND LAS VEGAS RESIDENCY, GENE SIMMONS EXPLAINS WHY DAVID LEE ROTH IS NOT OPENING THIS TIME AROUND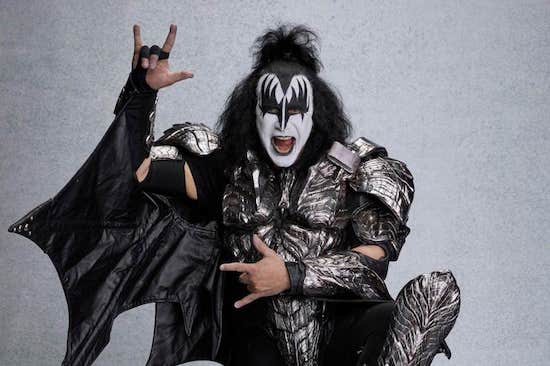 KISS will return to the Zappos Theater at Planet Hollywood for their second Las Vegas residency at the end of the year.
The scheduled dates are:
December 2021: 29, 31
January 2022: 1, 19, 21, 22, 26, 28, 29
February 2022: 2, 4, 5
Tickets go on sale to the general public beginning August 20th at 10 a.m. Las Vegas time.
A KISS Army Fan Club presale will begin on August 17th at 10 a.m. Citi cardmembers will have access to purchase presale tickets beginning August 18th at 10 a.m.
Caesars Rewards members, Caesars Entertainment's loyalty program, as well as Live Nation, Ticketmaster and Zappos customers will have access to a presale beginning Aug. 19th at 10 a.m.
VIP upgrades will be available as an add-on to any ticket. Packages will include a photo with KISS, access to the pre-show soundcheck, Q&A and an invitation to the KISS Army Captain's Lounge.
In related news, Joseph Hudak of Rolling Stone spoke with KISS frontman Gene Simmons about the residency, highlights from the interview appear below.
Rolling Stone: So what brought KISS back to Las Vegas for another residency?
Gene Simmons: There are matters of the heart and then there are matters of the pocket and it's nice when they both converge. So, it's a very nice payday. They pay well and that's reason enough. But it's also easier for the band because you don't have the wear and tear of traveling.
Rolling Stone: What kind of production will the residency have? Is it scaled down or is it on par with the touring show?
Gene Simmons: The answer is yes to both, because when we play stadiums around the world, those shows are like Transformers. You can make them as big as you want. KISS' shows have been talked about for longer than you've been alive. Anything that's got a roof on it, we have to scale back the pyro or we'll blow the roof off, literally. But we are planning lots of surprises for Vegas, which nobody's seen yet. We're in the middle of putting that together.
Rolling Stone: ...One of the hallmarks of the KISS experience is the backstage VIP meet-and-greet. How do you continue to do that now?
Gene Simmons: Well, we're not going to do it backstage. You can't get near the stage or backstage without being fully vaccinated and wearing masks. We were thinking about Plexiglas enclosures and all that stuff and the closest we came to it that's safe for the fans and the band is, we do soundchecks before the show. So, why not invite the fans to be in the audience and answer questions, play tunes, just kind of hang out together, but at a safe distance. The closest they're going to get to us is, oh, maybe 100 feet. So maybe it's a new experience for the fans who can sort of see the reality, and see the stage for what it is without the lights doing tricks. And we can have the back and forth of, "Hey, why don't you do Hard Luck Woman?" "OK, guys, remember the song? Let's do it."
Rolling Stone: So you'll take requests?
Gene Simmons: Yeah, but you don't want to do that [for the] whole [meet-and-greet]. Or they may have us doing Sugar, Sugar by the Archies.
Rolling Stone: Before the pandemic halted the tour, David Lee Roth was opening for KISS. Now it's the performance painter Garibaldi. So David is not back?
Gene Simmons: Not. But it bears noting that during Dave's heyday, nobody did what he did. He was the ultimate frontman. Not Plant, not Rod Stewart, nobody. He took being a frontman way beyond anything. And then, I don't know what happened to him… something. And you get modern-day Dave. I prefer to remember Elvis Presley in his prime. Sneering lips, back in Memphis, you know, doing all that. I don't want to think of bloated naked Elvis on the bathroom floor.
Rolling Stone: You've talked in the past of one day replacing the members of KISS, including yourself, and having the band carry on. It seems that a Las Vegas showroom would be ideal for that.
Gene Simmons: You're pretty smart, you're pretty smart….
Rolling Stone: So Vegas could be the type of place where KISS starts that transition?
Gene Simmons: Already talking about it… The idea would be more than just music. Like most stage productions, there's a story. So the KISS show would certainly include a book, a story, a script.
Rolling Stone: Almost like a Broadway production?
Gene Simmons: Well, closer to Blue Man Group, with music.
Rolling Stone You started painting during the pandemic and have an art showing in Vegas in October. Your bandmate Paul Stanley is an avid painter too. Do you both compare works?
Gene Simmons: Nope, not at all. I just told him, "Hey, pandemic's here, I'm going to fool around. I've never done this before." Paul's studied it. He has a sense of what a paintbrush can do in this kind of stuff. I haven't…
Rolling Stone: One of the most polarizing of Kiss albums, Music From The Elder, turn 40 this fall. How do you view that record now?
Gene Simmons: I take full blame. It was based on a treatment, a semi-script that I wrote called The Elder. I was staying at the Beverly Hills Hotel at that point and I wrote it on the Beverly Hills Hotel stationery. And when [producer] Bob Ezrin came back into the fold, he said, "What do you got there?" I said, "I'm developing this motion picture. It's called The Elder,"…a mythological fantasy, which I've always been drawn to. And he said, "OK, we're going to do a concept record and we're going to write songs based on your various premises." The decision was Bob Ezrin. And in hindsight, it was an interesting mistake. We all were sort of [thinking], "The Who are the threat, and they have Tommy? Why can't we have The Elder. The Beatles had Sgt. Pepper. This will be ours." Well, it wasn't.
Read more at Rolling Stone.