KING DIAMOND: "IN CONCERT 1987: ABIGAIL," "THE GRAVEYARD," "THE SPIDER'S LULLABYE" LP REISSUES NOW AVAILABLE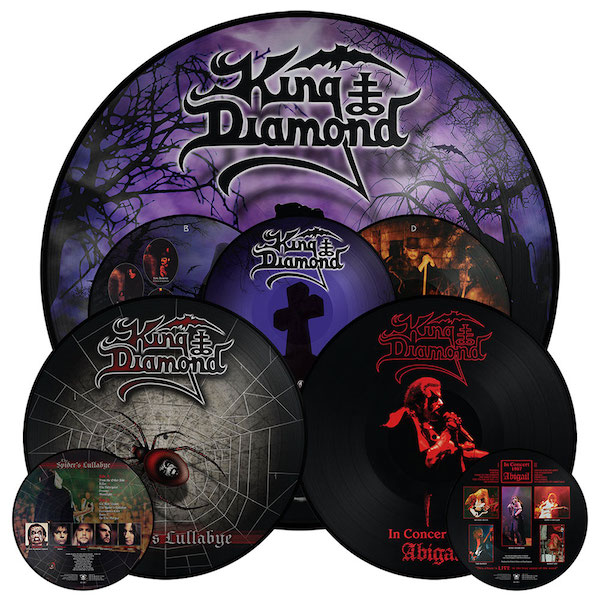 On August 3rd, King Diamond will release LP re-issues of the classic albums In Concert 1987: Abigail, The Graveyard, and The Spider's Lullabye via Metal Blade Records. Available as 180g picture discs, these exclusive editions can be purchased now at metalblade.com/kingdiamond.
King says, "You can spiral yourself into darkness with these classic King Diamond albums, or you can exhibit them on your wall like I will. Either way, enjoy."
See below for the albums' track-listings, and stay tuned for more King Diamond news coming soon!
In Concert 1987: Abigail track-listing
Side A:
1. Funeral
2. Arrival
3. Come to the Sabbath
4. The Family Ghost
5. The 7th Day of July 1777
6. The Portrait
Side B:
7. Guitar Solo by Andy
8. The Possession
9. Abigail
10. Drum Solo
11. The Candle
12. No Presents for Christmas
The Spider's Lullabye track-listing
Side A:
1. From the Other Side
2. Killer
3. The Poltergeist
4. Dreams
5. Moonlight
Side B:
6. Six Feet Under
7. The Spider's Lullabye
8. Eastmann's Cure
9. Room 17
10. To the Morgue
The Graveyard track-listing:
Side A:
1. The Graveyard
2. Black Hill Sanitarium
3. Waiting
4. Heads on the Wall
Side B:
5. Whispers
6. I'm Not a Stranger
7. Digging Graves
8. Meet Me at Midnight
Side C:
9. Sleep Tight Little Baby
10. Daddy
11. Trick or Treat
Side D
12. Up from the Grave
13. I Am
14. Lucy Forever
King Diamond online: