KING DIAMOND: "CONSPIRACY," "THE DARK SIDES," "THE EYE" LP RE-ISSUES NOW AVAILABLE AT METAL BLADE RECORDS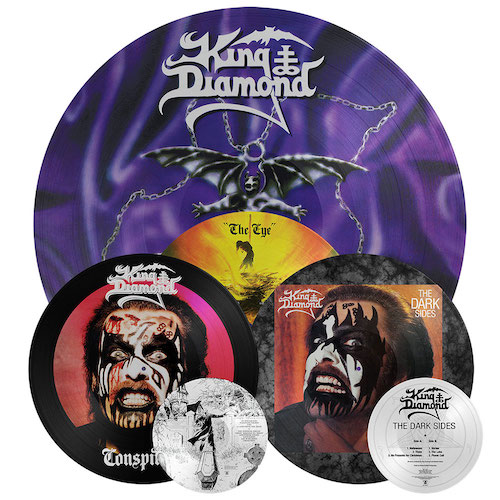 On June 15th, King Diamond will release LP re-issues of the classic albums Conspiracy, The Dark Sides, and The Eye via Metal Blade Records. Available as 180g picture discs, these exclusive editions can be purchased now at metalblade.com/kingdiamond.
You can spiral yourself into darkness with these classic King Diamond albums, or you can exhibit them on your wall like I will. Either way, enjoy." – King
See below for the albums' track-listings, and stay tuned for more King Diamond re-issues coming soon!
The Dark Sides track-listing:
Side A:
1. Halloween
2. Them
3. No Presents for Christmas
Side B:
4. Shrine
5. The Lake
6. Phone Call
Conspiracy track-listing:
Side A:
1. At the Graves
2. Sleepless Nights
3. Lies
4. A Visit from the Dead
Side B:
5. The Wedding Dream
6. "Amon" Belongs to "Them"
7. Something Weird
8. Victimized
9. Let It Be Done
10. Cremation
The Eye track-listing:
Side A:
1. Eye of the Witch
2. The Trial (Chambre Ardente)
3. Burn
4. Two Little Girls
5. Into the Convent
Side B:
6. Father Picard
7. Behind These Walls
8. The Meetings
9. Insanity
10. 1642 Imprisonment
11. The Curse
King Diamond online: