JUDAS PRIEST GUITARIST GLENN TIPTON SAYS THEIR NEW MUSIC IS "A BIT EXPERIMENTAL"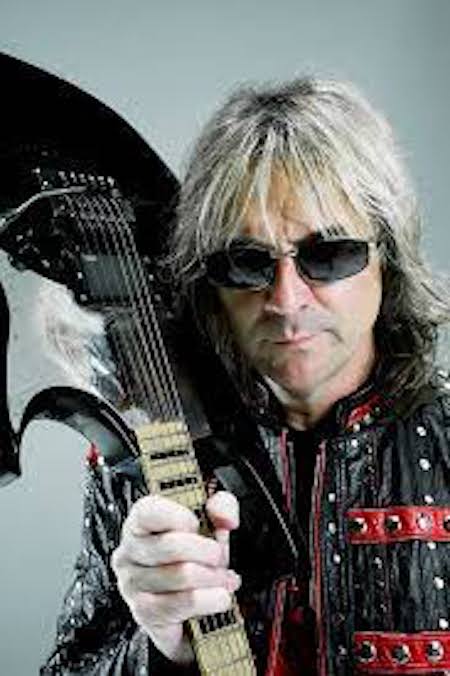 Greg Prato of Heavy Consequence spoke with Judas Priest guitarist Glenn Tipton, highlights from the interview appear below.
Heavy Consequence: First off, how are you feeling health-wise?
Glenn Tipton: I'm not too bad. I take every day as it comes. Sometimes I'm on a high, sometimes I'm on a low…but that's life. You just have to get on with it.
Heavy Consequence: How has it been playing with Judas Priest on certain tour dates?
Glenn Tipton: It's fantastic. To hear the roar of the crowd, and in some places they chant "Glenn," it makes me feel really good. It's just a very hard thing to give up. I will find it very difficult when I finish completely. But at the moment, I'm dealing with it and enjoying it…Also, I've got a foundation for Parkinson's. Basically, I've done it through this specialist that I work with in London. We've got t-shirts and we put them on sale with the Priest posters and t-shirts [order here]. It's sold really good. I'm not surprised, because the Priest fans are so loyal…'m putting it into a Parkinson's trust that deals with MRI – it's sort of an MRI technique, a scanning technique.
Heavy Consequence: What's the latest you can tell us about Judas Priest's upcoming album?
Glenn Tipton: We're fortunate — or unfortunate, whichever way you want to look at it — that we've created a niche for ourself, and I think the fans would be disappointed if we strayed too far away from it. But we've always wanted to try and go down new paths. So really, it's a bit experimental. There will be some tracks on there that people will either like or … I wouldn't say "hate," but they might not be their favorite tracks. We haven't finished it yet. We did some before the pandemic, then that put a halt to that, and then we've continued — and will continue — since. But it's very strong, very good material. I think that all in all, the kids are really going to like it.
Heavy Consequence: Judas Priest are currently nominated for the Rock & Roll Hall of Fame. Are you surprised that the band hasn't been inducted yet?
Glenn Tipton: I've gotten to not have much faith in the choice of some of the inductions over the years. I'd be proud of we were nominated and got through. But it wouldn't be the end of the world if we aren't. I'll be pleased one way and pleased the other way. I don't expect anything, so maybe this will be the year we are inducted.
Heavy Consequence: What are your memories of Priest's infamous 1984 Madison Square Garden show that got the band banned from the arena?
Glenn Tipton: We were held responsible for a riot in Madison Square Garden [on June 18th, 1984]. There was $400,000 worth of damage to the seats. But we didn't cause a riot – the audience just enjoyed the music so much that they got overenthusiastic. We got banned from there. But a funny story was me and KK went to Madison Square Garden about two months after the seats had been ripped out, and we snuck in there to watch McEnroe play. We thought nobody would notice us, but one of the ushers came up to us, bent down, and said, "Thanks for the new seats, lads!" So, we refurbished Madison Square Garden.
Read more at Heavy Consequence.
Judas Priest are currently on tour with Queenrÿche. They are performing in National Harbor, Maryland tonight (3/31), see the remaining dates, below, and order 50 Heavy Metal Years of Music at this location.
Remaining tour dates:
Mar. 31 – The Theater at MGM National Harbor – National Harbor, MD 
Apr. 2 – Foxwoods Resort Casino – Mashantucket, CT 
Apr. 4 – Tsongas Center at UMass Lowell – Lowell, MA 
Apr. 7 – Scotiabank Centre – Halifax, Nova Scotia, Canada 
Apr. 10 – Videotron Center – Quebec City, Quebec, Canada 
Apr. 11 – Place Bell – Laval, Quebec, Canada 
Apr. 13 – FirstOntario Centre – Hamilton, Ontario, Canada