"JOE PERRY AND FRIENDS" ALL-STAR BAND PERFORM TWO-HOUR PLUS SET AT SOLD-OUT JANUARY 16 THE ROXY THEATRE SHOW IN CELEBRATION OF FORTHCOMING "SWEETZERLAND MANIFESTO" SOLO ALBUM OUT THIS FRIDAY (JANUARY 19TH)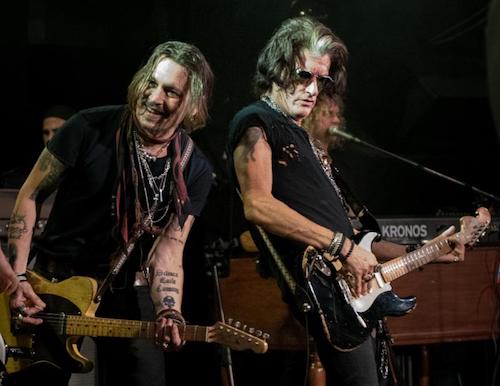 Joe Perry–legendary guitarist, co-founding member, principal songwriter and co-producer of Aerosmith–and his all-star band crushed it at a two-hour plus set this past Tuesday (January 16th) at The Roxy Theatre in Los Angeles, CA. Joe was backed by guitarist Dean DeLeo and bassist Robert DeLeo (Stone Temple Pilots), Buck Johnson (keyboards/vocals/Aerosmith) and David Goodstein (drums) who performed the entire set that also featured guest appearances by Slash and Johnny Depp. Gary Cherone (Extreme/Van Halen) handled vocals for the bulk of the show, with other guest vocalists also lighting up the Roxy: Terry Reid, David Johanson, Robin Zander and Chris Robinson.
Tuesday's set list included Sweetzerland Manifesto collaborations I'll Do Happiness, Sick & Tired, and Won't Let Me Go with Terry Reid, Eve of Destruction alongside the album's executive producer Johnny Depp, I Wanna Roll with David Johanson and Depp followed by I'm Goin' Crazy with Johanson, the album's first single Aye, Aye, Aye with Robin Zander, who stayed on with the band to play Zander's Countryside Blvd solo song, before the band went on to play the album's instrumental Spanish Sushi. Beyond these guests, Perry was joined by Chris Robinson on Fortunate One and Quake with Cherone with all the special guests then joining in on a crowd sing-a-long of the Beatles' classic Come Together. Other songs in the show included Perry solo tracks Shakin' My Cage and Rockin' Train and Aerosmith tracks Let The Music Do The Talking, Toys In The Attic, Pandora's Box, and Train Kept A Rollin' with Slash and Depp.
The show came three days before the release of his Sweetzerland Manifesto album. Set for release on his own Roman Records imprint (distributed worldwide by AMPED Distribution), Sweetzerland Manifesto–which is available for pre-order via iTunes and Amazon–marks JOE's sixth solo album and is comprised of 10 new tracks. They were all written or co-written by Joe (many with the album's guest vocalists), except for a cover of Eve Of Destruction with Joe on lead vocals and Johnny Depp on drums. The album features guest appearances from a long list of Joe's friends, colleagues and rock and roll icons.
The full set list from The Roxy Theatre show is as follows (with guest vocalists listed in parenthesis):
Let The Music Do The Talking
Toys In The Attic
Pandora's Box
Shakin' My Cage
I'll Do Happiness (Terry Reid)
Sick & Tired (Terry Reid)
Won't Let Me Go (Terry Reid)
Fortunate One (Chris Robinson)
Spanish Sushi
Eve of Destruction (Johnny Depp)
I Wanna Roll (David Johanson and Johnny Depp)
I'm Goin' Crazy (David Johanson)
Countryside Blvd (Robin Zander)
Aye, Aye, Aye (Robin Zander)
Quake
Rockin' Train
Come Together (all guests)
Train Kept A Rollin' (Slash and Johnny Depp)