HOLLYWOOD VAMPIRES, FEATURING ALICE COOPER, JOE PERRY, JOHNNY DEPP, DUFF MCKAGAN AND MATT SORUM, ANNOUNCE TWO SHOWS IN CALIFORNIA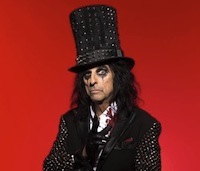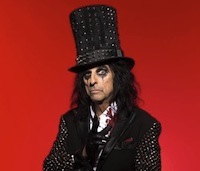 Kory Grow of Rolling Stone reports:
Hollywood Vampires, the supergroup featuring Johnny Depp, Alice Cooper and Joe Perry, have announced their first live dates, set for next month. Rounding out the lineup will be former Guns N' Roses bassist Duff McKagan and drummer Matt Sorum, both of whom also play in the supergroup Velvet Revolver.
The name "Hollywood vampires" references a loose collective of rockers, including Cooper, John Lennon, Harry Nilsson and Keith Moon, who got together in the early Seventies and drink on the Sunset Strip at the Rainbow. Cooper's crew – which is issuing its debut album, Hollywood Vampires, on September 11th – plans on keeping true to its moniker's origins.
The first Hollywood Vampires concerts will take place at the fabled Sunset Strip outpost the Roxy on September 16th and 17th. It will be the group's only U.S. show.
As for the band's music, they play a mix of cover songs by members of the original Hollywood vampires, including the Who's My Generation, the Doors' Five to One and Break on Through, Nilsson's Jump Into the Fire, Lennon's Cold Turkey and Jimi Hendrix's Manic Depression, among others, along with some original tunes. Their debut album will feature a number of notable special guests, including Paul McCartney, Dave Grohl, Slash, Joe Walsh and AC/DC's Brian Johnson
Read more at Rolling Stone.
source: rollingstone.com