GUNS N' ROSES TO HEADLINE REVOLVER'S "GOLDEN GODS" AWARDS SHOW IN LOS ANGELES IN APRIL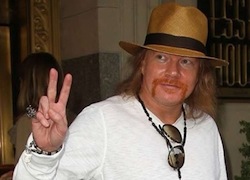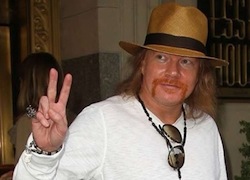 Guns N' Roses will headline this year's edition of Revolver magazine's hard rock–centric Golden Gods Awards. The ceremony will be held at Los Angeles's Club Nokia on April 23rd and will also feature performances by Joan Jett and the Blackhearts, Korn, A Day to Remember, a solo performance by Black Label Society frontman Zakk Wylde, the Pretty Reckless and more. The magazine will announce more performers in the weeks to come.
Additionally, GN'R frontman Axl Rose will also receive the Ronnie James Dio Lifetime Achievement Award. Previous Lifetime Achievement recipients include Ozzy Osbourne and Metallica.
The awards show will hand out trophies in 12 categories, ranging from Most Metal Athlete to Album of the Year. Fans are encouraged to vote on the nominees at Revolver's website.
This year, the show's organizers have renamed the Best Guitarist category after Pantera guitarist Dimebag Darrell, who was murdered 10 years ago this year. "I am very honored that Revolver is renaming the Best Guitarist Award after Dime," former Pantera drummer and Darrell's brother, Vinnie Paul, said in a statement. "He was and always will be what heavy-metal guitar playing is all about. This award is given to the person with those special skills that sets them apart from others. Dime always went for it and I know he would be proud of the winner of this award."
Tickets for the live event go on sale February 28th, through AXS.com.
additional source: rollingstone.com