GUITARIST YNGWIE MALMSTEEN DISCUSSES HIS ART COLLECTION, "IT'S NUTS ALMOST HOW COOL IT LOOKS"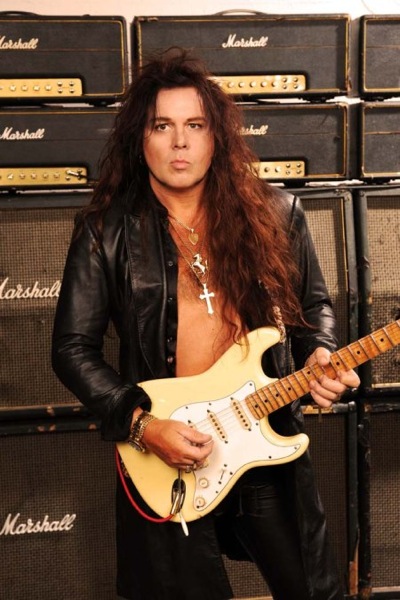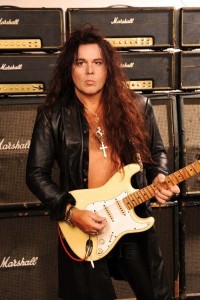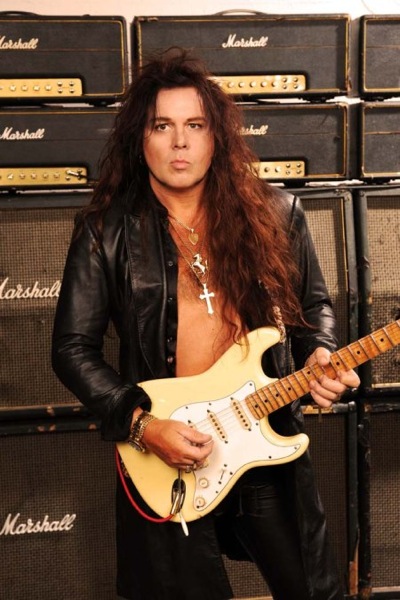 On June 18th, Swedish guitar legend Yngwie Malmsteen will unveil his fine art debut collection. Completed with art team SceneFour, the release is a pioneering effort in the new medium of crafting visual art through guitar performance. A new clip in which Malmsteen discusses his art collection can be seen below.
Malmsteen recently stated about guitar being a visual instrument, "Well, for one thing, you can't play piano with your teeth. You can't throw it around and be cool with it. So this [guitar] is better than anything to begin with. And, of course, whateve you play it's going to be expressive as well. You can do showy things with it, which is exciting to most people. Throw it around, throw it in the air, burn it, smash it up, shoot holes in it, whatever. You don't do that with a piano or even a drum set. This is a very exciting instrument to begin with, but with lights involved it gives the sound a visual. It's very exciting."
Asked what he hopes buyers will see in the art, Yngwie said, "Anybody who is into art will be into this because it's so crazy. It's nuts almost how cool it looks. But the fact that it is the visual result of a musical performance per say, and it's never been done like this, it's extremely unique. So I think anyone who is into art, it's going to be priceless for them."
Sign up at ww.yngwiemalmsteenart.com to learn more and see the collection before the public.
SceneFour is a visual art team based in downtown Los Angeles. Led by artist Ravi Dosaj and conceptual artist Cory Danziger, SceneFour specializes in the construction of collaborative art projects. Through their signature collaborative art approach, SceneFour works with notable visionaries outside of the fine art world to collectively create original art projects. At the conclusion of the creation process with featured collaborative guest, an original art collection is born and released worldwide.
Yngwie is currently working on a new studio album for a late 2015 release. He told Australia's 3D Radio about the recording process for the CD, "Well, it's changed somewhat because [I have] my [own] recording studio now. And it's in my house. And it's not like a home studio; it's a full-blown studio. And it's in here. And I go in here and I see what happens. If I like what I hear, then I use it. If I don't like it, I don't use it. And in the past, I used to do demos. I would do demos, and rehearse it with the band and you rent the studio and go in and record it and so forth. It was a very different process because by the time it was actually recorded, it had gone through so many stages that the spontaneity was gone. Now, it's here now; it's here now. And it's a lovely thing."
Yngwie released a live album, Spellbound Live In Tampa, and a live DVD, Spellbound Live In Orlando, last summer. The two releases represent back-to-back Malmsteen shows. The CD and DVD, both of which are named after Malmsteen's latest studio album, 2012's Spellbound, were issued on September 17th, 2014.