GUITARIST ULI JON ROTH SAYS THAT INTEREST IN '70S ERA SCORPIONS SEEMS TO BE "GROWING"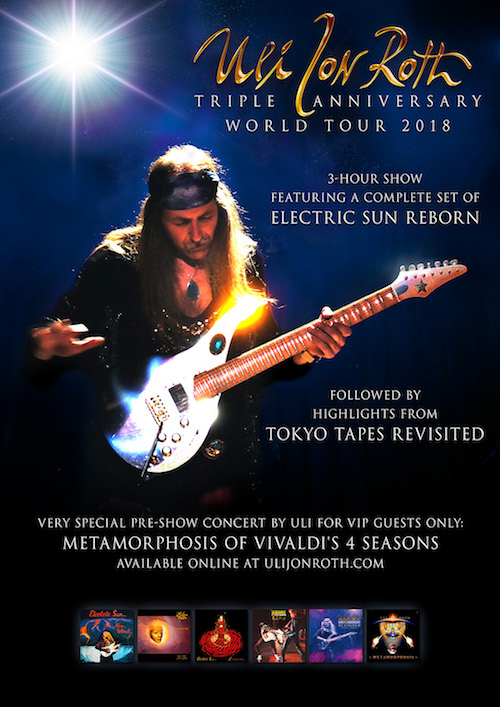 Greg Prato of BraveWords spoke with guitarist Uni Jon Roth. Portions of the interview appear below.
BraveWords: Let's discuss the 50th Anniversary Tour – how has the tour been thus far, and what can fans expect who have not attended yet? 
Uli Jon Roth:  So far, definitely my best American tour. We just started in Canada, but Vancouver went great yesterday. It's quite an ambitious program, because we are celebrating the 50th on-stage anniversary of myself. And the music that we're playing is a journey through those years – in some respects. Apart from the usual stalwarts, of course we're playing the best of the early Scorpions, but we are also playing quite a bit of Electric Sun – which has not seen the light of day for 40 years…We're playing quite a few of these pieces, and the audience seems to really like them. So, that's part of this tour. Then, we're playing all sorts of other things, from various stages of my life – including some stuff that I wrote for G3, Transcendental Sky Guitar, Sky of Avalon, and also a little acoustic set, where I am playing solo on my nylon 8-string guitar. It's an integrated 3-hour show, which has a little intermission in the middle, and we've got a backdrop screen to augment everything with moving images. And if that is not enough, we are offering a VIP-only concert, which is in the late afternoon, and that features my Metamorphosis Concerto – which is my own one-hour piece, based on Vivaldi's The Four Seasons. And I particularly enjoy that part of the evening, because I normally don't get to play that piece. All in all, it's a long evening, but so far, we haven't had any complaints. It seems to be working very well, because the music is quite diverse.
BraveWords: This past January, you played a few shows in Japan with your former Scorpions bandmates, Rudolph Schenker and Rudy Lenners.
Uli Jon Roth: That was a really nice experience, because I asked Rudolph to be a part of my 50th anniversary show in Japan, and he immediately said yes, and there were some conflicting time schedules, which took time to iron out. So, because of the complexity of the flights, it was only confirmed literally the week before we actually did the gigs. But then he showed up, and we had a big blast. It was a party on stage, and it was really nice to have him there. Because after that, we played in the same hall – Sun Plaza Hall – that we had my last Scorpions show in, 40 years earlier. The Tokyo Tapes shows. And having Rudy Lenners there was also a very gratifying experience. He is a good friend of mine, but I don't get to see him very often – other than at events like this. It went very well.
BraveWords: Would you agree that the popularity of the Scorpions' 70s work is at an all-time high now? 
Uli Jon Roth: It is growing. Absolutely. I just spoke about this with Eddie Trunk, who brought up this very point that it seems to be growing – exponentially. I've noticed that, too. It's almost like people went back in time, and they discovered that, which wasn't so popular at the time – because the Scorpions only really made it very big in the early '80s. And by then, I was gone. It was all the following stage beforehand – with Virgin Killer and all these albums. But the simple fact was that the Scorpions never made it to America until after I left – and that was due to the fact that our record company, RCA, was a global company, and the head of RCA America wasn't really a fan of the Scorpions. He didn't support that. But once the top bands went with EMI, everything changed – EMI/Capitol. And then, America…it just really exploded for the band.
BraveWords: Future plans?
Uli Jon Roth: There are almost too many for me to handle, because at the moment, there are a couple of things on the horizon that are hard to decide between…and I can't really mention them, because they seem like big projects, but they're not yet signed, sealed, and delivered. I am going to try this summer to really seriously start recording a new album. I've written so much material over the last few years, it's unreal. And I really want to get some of that down onto vinyl, digital, whatever have you. The main problem is there is very little time usually for me to do these things, because I am on tour so much these days. And while touring, I can't really record. And the next problem is I am notoriously slow in the studio, because I am rarely ever happy with the sound we are getting. So, that is my catch-22 – but that is my own personal problem, and I will try my best to make sure it does not get in the way of recording soon.
Read more at BraveWords.
Remaining Uni Jon Roth 50th Anniversary tour dates:
April:
12 in Joliet, IL at The Forge
13 in St. Charles, IL at Arcada Theater
14 in Detroit, MI at Token Lounge
15 in Toronto, ON at Rockpile
16 in Montreal, QU at Piranha
17 in Quebec, QU at L' Anti
18 in Ottawa, ON at Brass Monkey
19 in Pawling, NY at Daryl's House
20 in Derry, NH at Tupelo Music Hall
21 in Hartford, CT at Infinity Music Hall
23 in New York, NY at the Gramercy Theater
24 in Asbury Park, NJ at Wonderbar
25 in Sellersville, PA at the Sellersville Theater
26 in Syracuse, NY at Sharkey's
27 in Cleveland, OH at Agora Ballroom
29 in Pittsburgh, PA at Jergels
May:
1 in Plymouth, MA at Spire Center for the Performing Arts
3 in Newton, NJ at the Newton Theatre
4 in Louisville, KY at the Diamond Pub Concert Hall
5 in Nashville, TN at The High Watt
6 in Atlanta, GA at City Winery
9 in Dallas, TX at Trees
10 in San Antonio, TX at Rockbox
For more information on Uni Jon Roth, please visit:

ulijonroth.com
sky-guitars.com
facebook.com/Uli-Jon-Roth
twitter.com/UliJonRoth1