GUITARIST TED NUGENT SAYS HE DOESN'T UNDERSTAND WHY PEOPLE HATE HIM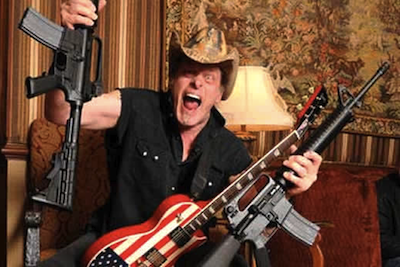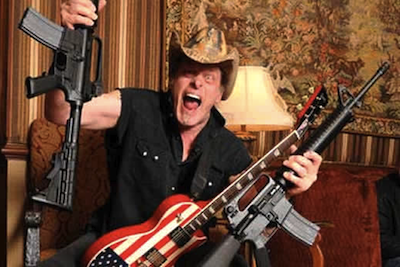 Polarizing musician Ted Nugent says he doesn't understand why people hate him and that believes that his ""beliefs are so positive and so uplifting that they would work for everybody."
According to blabbermout.net, Nugent, who is a supporter of gun rights and anti President Barack Obama, was critized this past weekend by former Guns N' Roses drummer Matt Sorum for his love of hunting, after he found a photo of Nugent with a small game kill.
Nugent, who is a board member of the National Rifle Association and the owner of a large hunting ranch in Jackson, Michigan, tells Metal Assault, "People that hate me, I don't understand them. I mean, I understand that hate comes from ignorance and a negative life, but you know what I do, I pray for my haters."
He continues, "What a terrible thing. Why would you hate someone who has done benefits for children's and military charity? I do this every day. You've really got to have a dark, dark heart and sad, dilapidated soul to live to hate like that. So I wish them well and godspeed, and I hope they come out of that terrible dark place they're living in, because I'm a happy, fulfilled man and do everything for my fellow man. I've done more for clean air, soil and water than all my haters combined. I've made mistakes in life but I don't make them twice in a row, I promise you that.
I feel honored and humbled. I don't have all the answers but I got most of them, and the manifestation of my policies and beliefs are so positive and so uplifting that they would work for everybody."
Nugent apologized in February for referring to President Barack Obama as a "subhuman mongrel," calling that word grouping "street-fighter terminology" and saying he wished he used "more understandable language," such as "violator of his oath to the Constitution."
Ted Nugent's new album SHUTUP&JAM! was released on July 8th on Frontiers Records. Nugent has streamed two songs from the album online. One featuring singer Sammy Hagar called She's Gone and the other, about his love of grilling, called I Love My BBQ.
Nugent began his North American tour on July 3rd in Wichita Falls, Texas where it will wind down on August 16th in Fort Worth, Texas. See tour dates below.
Ted Nugent's SHUTUP&JAM! tour dates:
17 Council Bluffs, IA Mid-America Center*
18 Merrillville, IN Star Plaza Theatre
19 Detroit, MI DTE Energy Music Theatre
21 Huntington, NY The Paramount
22 Montclair, NJ The Wellmont Theater
23 Jim Thorpe, PA Penn's Peak
24 Columbus, OH Newport Music Hall
25 Morgantown, WV MountainFest at Mylan Park
26 Oshkosh, WI Leach Amphitheater at Riverside Park
27 Medina, MN Medina Entertainment Center
29 Kansas City, MO Arvest Bank Theatre at The Midland
30 Englewood, CO Gothic Theatre
31 Salt Lake City, UT The Depot
August:
1 Sheridan, WY Trails End Concert Park
2 Tacoma, WA Emerald Queen Casino
3 Tacoma, WA Emerald Queen Casino
6 Sturgis, SD Full Throttle Saloon
8 Maumee, OH NW Ohio Rib-Off at Lucas County Fairgrounds
9 Oxford, OH Indian Creek Amphitheatre
11 North Myrtle Beach, SC House of Blues
12 Lake Buena Vista, FL House of Blues
14 Houston, TX House of Blues
15 Biloxi, MS Hard Rock Live
16 Fort Worth, TX Billy Bob's Texas
*denotes opening for Hank Williams Jr.