GUITARIST SCOTT GORHAM ON WHY THIN LIZZY DECIDED TO CHANGE THIER NAME TO BLACK STAR RIDERS: "IT WAS GUILT"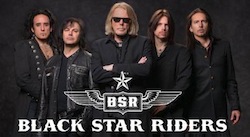 Greg Prato of Songfacts spoke to Black Star Riders and Thin Lizzy guitarist Scott Gorham about the BSR and their album All Hell Breaks Loose. Portions of the interview appear below.
Songfacts: Let's start by talking about Black Star Riders and also the new album All Hell Breaks Loose.
Scott Gorham: Well, it's totally different recording a BSR album to any Thin Lizzy album that I've ever done. One of the main differences was in the time that we didn't take to do it. This was literally twelve songs in twelve days.
Songfacts: Wow.
Scott: No kidding. And that's because that's how Kevin Shirley likes to work. He doesn't like to sit there and put the microscope on this note or that note or this passage or this guitar tone. So it was kind of a pressurized situation. It was really a fun thing to do it that way. I'm not sure that any of us are going to do it that way again, but he did catch a lot of what we were all about on stage, especially for the last year and a half. He got some good stuff.
Songfacts: Something I was impressed with, especially with the first single, Bound For Glory, was how successfully the band was able to recreate the vintage Thin Lizzy vibe.
Scott: Yeah. I think a lot of that was because we had just come off of basically three years of heavy Thin Lizzy touring. So obviously that's going to rub off somewhere along the lines onto the next thing you're going to do. So I don't think it was on purpose that it panned out that way. It's just there were a lot of subliminal things that were going on and it just kind of turned out that way.
Songfacts: What made you decide to drop the Thin Lizzy name and go with Black Star Riders?
Scott: Well, I think it was more guilt than anything else. We started to write the album just a little over a year ago, and after about three months of us thinking, "Okay, the next album is going to be the next Thin Lizzy album," I started to feel uncomfortable about the whole thing – about writing and recording an album under the name Thin Lizzy and Phil Lynott not being there. It just didn't sit right with me after a while.
I went to Brian Downey (Drums) and explained the situation, how I was feeling. He said he was feeling the same way. We went to both Ricky and Damon and they were feeling it. So independently, without anybody wanting to say anything, we were all thinking the same thing, feeling the same thing.
So now that we've come to the conclusion that this, in fact, will not be the next Thin Lizzy album, what do we do with these songs? Because we really loved this start that we had on writing this new material. That's when one of the management said, "Well, the only thing you guys can really do, what we have to do at this point, is find a date on the calendar, X that off, that will be the last Thin Lizzy show, and that will be the beginning of the new band." And that's what we did.
We had our last tour with Kiss in Australia, we saw the last date was in Brisbane, and that was it, that was the date.
Songfacts: What are the future plans for Black Star Riders? And also from what I hear there's a Thin Lizzy book coming out, right?
Scott: It's already out. It's a book that myself and Harry Doherty did Thin Lizzy: The Boys Are Back in Town. It's already into its fourth reprint in the UK, it's being released in Germany in a translated version. Hopefully it's going to be released over here at some point. That's down to Omnibus, but I think you can actually order it on Amazon, if people in America want this thing. It got great reviews, there are great pictures in there. There are pictures that I hadn't seen for years that really describe visually what went on back then.
Schedule wise, we start rehearsing May 25th to do our first festival in Germany on June 1st, 2nd, and then we go to the Sweden Rock Festival. And then there are festivals dotted around throughout the summer. But the BSR UK tour starts in earnest in October. That'll take us all the way through the UK, Ireland, and Europe.
Songfacts: And are there any plans to hit the US as well?
Scott: Yes. We're talking about that now. A friend who's in management is talking to the agencies and seeing what tour we can jump on. Absolutely. Everybody wants us to come out there. So if it happens, I'm on the airplane. I'm ready to go.
Read more at Songfacts.
Watch Black Star Rider's lyric video for Bound for Glory below.
source: songfacts.com