GUITARIST RITCHIE BLACKMORE TALKS ABOUT RAINBOW, RONNIE JAMES DIO AND DEEP PURPLE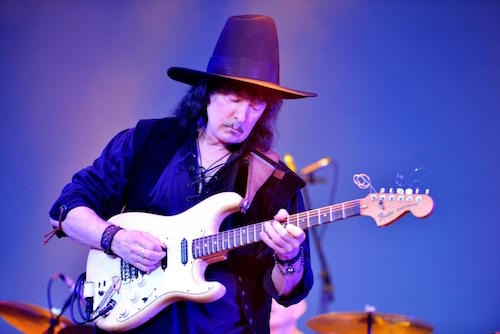 Jeff Perlah of Newsweek spoke with guitar icon, Ritchie Blackmore. Highlights from the interview appear below.
Newsweek: Ritchie, how did the regrouping of Rainbow in the mid-'90s come about?
Blackmore: I kind of left the Purple camp and I was really at a loose end, I didn't know what I wanted to do. I just knew that I didn't want to travel anymore. They were all over the world, all the time, and I hate traveling. It's funny, because I chose a profession where all you do is travel. I thought maybe I'll re-form Rainbow and see how it goes.
Popularity-wise, it went very well. But I wasn't pleased with the lineup. After being in the studio, I thought, You know, I'm not happy with the singer [Doogie White]. My main connection with music is the singer and if I don't have a good singer, I can't force it. And when you bring somebody into a band, sometimes the egos go crazy, so I thought, "Why am I doing this?…" So I decided to gravitate more toward the ballads and Medieval/Renaissance music, which of course has been my favorite music since 1972…
Newsweek: When you reformed Rainbow for the shows last June, were you disappointed that you weren't able to invite original singer Ronnie James Dio, who died in 2010?
Blackmore: I hate to say it, but no, I wasn't. I'd finished with Ronnie a long time ago, and we kept in touch now and again but I went on to other things and he was in other things. We kept it very convivial and that, but I think neither one of us really wanted to get back together. He's a strong alpha male, and so am I; he wanted to go one way, I wanted to go the other.
Newsweek: Deep Purple took several stylistic twists and turns before establishing a hard rock sound that would end up influencing countless rock and metal groups. When did that approach come together?
Blackmore: When the band first came on the scene in '68, obviously psychedelia was in, and everybody had lights and things. We played the Fillmore East and West; it was great, but we weren't really a psychedelic band. Someone like Pink Floyd was more into that.
We didn't really find our way, in my opinion, until we did In Rock [1970]. We seemed to have an idea where the hell we were going. I said to [keyboardist] Jon Lord, "Let's make a rock and roll record, completely hard rock, and if that doesn't sell we'll go back to playing with orchestras [Deep Purple played with the Royal Philharmonic Orchestra on 1969's Concerto for Group and Orchestra]." I was a little bit tired with playing with an orchestra because it was very almost contrived. You'd have to play so quietly because the violinist was always complaining the lead guitar was too loud.
My biggest influences were Vanilla Fudge and Mountain. I remember Ian Paice and I were out for a drink in a bar in Germany, in 1970 I think it was, and we were pretty pleased with our record In Rock, and they were playing it. And then this other record came on, and we didn't know who it was, but it was such an amazing, big, hard sound. We looked at each other very nervously and thought, "Who the hell is that?" We asked the DJ and it was Mountain, with Mississippi Queen, and that thundered.
We couldn't speak because because we didn't know what to say [laughs]. We thought, "Oh, my God, that is one hell of a sound."
Newsweek: In the past you've also mentioned the Who as an influence.
Blackmore: When they did Can't Explain that was an eye-opener. When I heard My Generation, with that feedback, I thought it was wonderful. A guitarist would do a solo and have a feedback part. Whereas I used to do sessions, and heaven forbid, if I came up with any feedback, I was thrown out of the studio. I knew [drummer] Keith Moon a little bit. I always liked his antics. Very, very funny, great man he was. He would make me cry laughing all time.
Newsweek: Many Rainbow songs feature neo-classical elements. What influenced the classical leanings in your guitar work?
Blackmore: Someone was saying the other day that I came up with the idea of playing classical music to a rock beat. I didn't really come up with that, although I like having the honor. But there was a band I saw when I was 15 called Nero and the Gladiators, and they dressed up in Roman togas, and they were playing all this classical music rocked-up. It would be [Vittorio] Monti's Csárdás, it would be In the Hall of Mountain King by Edvard Grieg. I was mesmerized by this band. I've never been so moved by a band onstage.
Everybody else was playing Chuck Berry and stuff like that. Although I do appreciate Chuck Berry obviously—especially for his lyrics and singing. Most bands around that time—the Rolling Stones came a bit later and a few others—were all influenced by the blues, but I was influenced by classical music.
Newsweek: Two years after In Rock was released, Deep Purple unveiled Machine Head. Can you talk about the making of that album in Switzerland?
Blackmore: The first part we approached was the backing of Smoke on the Water, so Paicey [drummer Ian Paice] asked, "What rhythms should we do?" He used to start just playing a rhythm, and I would join in with a chord sequence. On that particular day, we had this gigantic ballroom. What happened was, the rest of the band joined in on the progression, and soon as we started on the backing track, the police turned up to try to close us down, because we were making so much of a racket. They were literally banging at the doors, demanding to be let in. But we knew that if we'd stopped, we would lose these good sounds that we had in this big ballroom.
Newsweek: Then what happened?
Blackmore: We were listening to the playback on Rolling Stones Mobile Studio, and we knew that the police were still there. We heard the track and went, "That's it, we got it." We opened up the door and the police said, that's it, we've had too many complaints from the neighbors, you gotta close all this down and move on.
Now we are stuck in Montreux, with no place to play. Luckily we knew Claude Nobs [a city leader who was manager of the Montreux Jazz Festival]. He knew of an abandoned hotel we could play in. Long story short, we set up in the corridors of this old, very cold hotel, because it was snowing. And with the Mobile unit in the courtyard, we did that record Machine Head.
It was strange to hear playbacks because we'd be in the corridor, we'd have to leave the corridor, go through a bedroom, out the window, along the fire escape, in through another window, across the marble reception, and then across the courtyard. It probably took us 10 minutes to get to hear a playback. After a while, whenever the engineer would say, "do you wanna come and hear that," we'd often stay "oh, no, it's OK, we'll leave it for now." We knew it was gonna be a 10-minute thing and we'd have to put our coats on—it was quite funny. It was trying to play in very adverse conditions. But in a way, it probably motivated us.
Read more at Newsweek.
source: newsweek.com