GUITARIST GUS G. DISCUSSES HIS NEW INSTRUMENTAL ALBUM, "QUANTUM LEAP," AND HIS TIME WORKING WITH OZZY OSBOURNE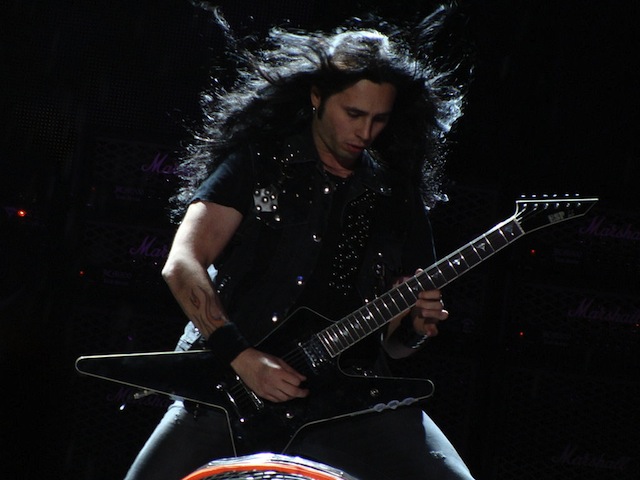 Greg Prato of Guitar World spoke with former Ozzy Osbourne guitarist Gus G., highlights from the interview appear below.
Guitar World: Let's start with your new album, Quantum Leap – what was the idea behind this record?
Gus G.: The big difference to my previous solo records is that first of all, it's instrumental – all-instrumental. So, there's no singers – like in the past, I did collaborations with different singers.
This is the first time I'm branching out to do a "full-on rock guitar record,'" so to speak…
Guitar World: How would you compare writing an all-instrumental song versus one that is going to have vocals?
Gus G.: It was different…Because in instrumental music, you have to fill up that space that the vocals are taking up. So, you can do that either with melodies, or it can be harmonies, or just different layers of musical parts or whatever. It's like a whole new ballpark – it was interesting for me. 
I was always kind of scared of doing that…For me, it was more of a matter of finding the balance between the melodies, the hooks, and to avoid making it a boring album that is 45 minutes full of "widdly widdly." [Laughs].
Guitar World: How did you get the gig with Ozzy?
Gus G.: Somebody reached out from the management back then. They just emailed me and said, 'Would you be interested in doing an audition?' "Yeah, sure!"
I learned a bunch of songs and they flew me out to LA, and we went into a rehearsal room. I got to meet everybody and we played for a couple of hours. Then Ozzy came in and we jammed for a bit. I think I got the gig on the spot – right there.  
He was like, "Yeah! You're f–king great, man!" They went into this other room and had a meeting really quickly – with Sharon [Osbourne], assistants, and whoever else was there – and they came back and said, "You did great. Would you like and come back and do a show with us?" And I was like, "Hell yeah!"
I think the first show was the BlizzCon Convention. That was probably like a "tryout show." And then they were like, "You did great. Do you want to come back and do another one?" We did another festival, and then before I know it, I was over at his place, and he was playing me the new stuff he was working on, and I ended up staying there and recording the guitars for the album."
Guitar World: Which Ozzy songs were most fun to play live? 
Gus G.: For me, it was probably Bark at the Moon. I just love that on.
Guitar World: How did you find out you were no longer in Ozzy's band? 
Gus G.: Sharon called me at home. I was kind of expecting it…She called me in Greece, and said, "I just wanted to let you know personally, so you don't find out online, we're going to do the Farewell Tour, and [Zakk [Wylde] is coming back for that." And I was like, "No worries at all. No problem." And I thanked her for everything they had done for me. We're still on good terms, so, no problem at all.
Guitar World: What are your future plans? 
Gus G.: Maybe play some shows for a change. I'm focusing on getting Firewind together for that 20th anniversary tour next year. I'm probably going to do some more writing. Working on my own pickup company. So, there's a lot of stuff that I've got my hands on.
Read more at Guitar World.
Quantum Leap is out on October 8th and available for preorder now.