GUITARIST GEORGE LYNCH SAYS THAT SINGER ROBERT MASON WILL JOIN LYNCH MOB FOR "SELECTIVE DATES"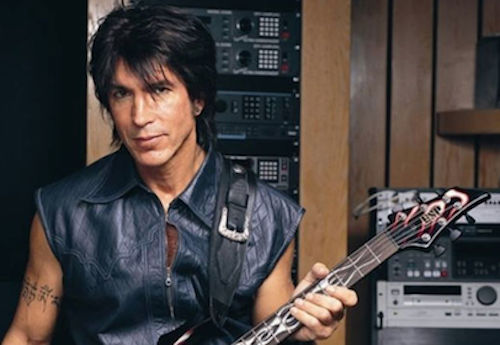 Guitarist George Lynch told Eddie, on his Sirius/XM radio show, that former Lynch Mob singer Robert Mason, will be joining the band for "selective dates" following the recent departure of frontman Oni Logan.
He says [via blabbermouth.net, "[Robert is] doing the Monsters Of Rock cruise with us, and there's an '80s In The Park festival we're doing in a couple weeks, along with a few others. But we're not sure how deeply he's going to be involved in Lynch Mob, if it's anything that's going to stick. His primary band, obviously, is Warrant, and we recognize that and respect that. I'm not trying to steal him out of Warrant or anything like that. That's his home. But we have history, and it's a wonderful fit. Him and Myles Kennedy are in that world — I mean, where do you go from there when you sing like that? I mean, it's just incredible. It's fascinating to me to work with a guy like that, that has that kind of pipes and that sort of consistency and can basically just do anything that he wants, it seems like. He's a vocal contortionist."
George also revealed that drummer Scot Coogan is back in the band "I played with Scot off and on in various projects over the years, and he was in Lynch Mob a number of variations, most recently up to a few years ago," the guitarist said. "Scot's wonderful. He brings so much to the table…"
Rounding out the rest of the band, Lynch says, [Bassist] Sean [McNabb]'s still here…We've got a lot of history too. He was in Lynch Mob as well in the early 2000s. It's just this kind of revolving-door thing. [Laughs]"
Regarding former singer, One Logan, Lynch stated, "We have tremendous respect for each other on the musical level, and I'll just leave it there and wish him well. I'm sure he's going to do fine. He's one of the great ones. Maybe he hasn't been recognized like I feel he should be. To me, he's a modern-day Paul Rodgers…"
Lynch Mob's latest record, The Brotherhood, was released last September through Rat Pak Records.