GUITARIST GARY HOLT SAYS EXODUS' NEW MATERIAL IS "F'ING CRUSHING"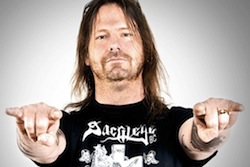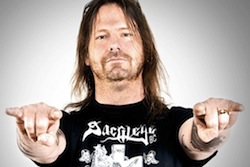 Greg Prato of Bravewords spoke with Exodus and Slayer guitarist Gary Holt. Highlights from the Q&A appear below.
BraveWords: How far along is the new Exodus album?
Gary Holt: As soon as this interview's done, I'm on my way to start guitars today!
BraveWords: How would you describe the material?
Gary Holt: It's fucking crushing. I put it like this, everybody is usually patting themselves on the back-"This new album is the new Master of Puppets, or the new Bonded by Blood, or the new Back in Black." It's fucking killer. I'll let everyone else make comparisons, but it's amazing.
BraveWords: What about a new Slayer album?
Gary Holt: I haven't talked to Kerry [King] for a little bit. I think he's still writing. I don't know what's up – they haven't started recording yet, but when they do and they need me to lay down some leads, I'm ready.
BraveWords: So you'd say Exodus' album is further along than Slayer's?
Gary Holt: Well, we've started recording. [Laughs] Song-wise, to the best of my knowledge, the Slayer album is complete. I know Kerry is continuing to write, so I think he's got a lot of stuff. I think they're just waiting for the right time to begin.
BraveWords: Will you have any writing credits on Slayer's album?
Gary Holt: No, it's all them. That's their game, their thing. If in the future they want some additional help, I've got no shortage of riffs. But right now, they're all dedicated to this record.
BraveWords: Do you think that playing in Slayer may affect the material on the new Exodus album at all?
Gary Holt: No, because I write the way I write. I'm flexible-I could write for fuckin' Bon Jovi if I had to. Not that I want to, although the publishing check would be good, but it's like I do things my own way and I always have. And I still write the same way I did in 1985.
BraveWords: And what about touring plans for Exodus?
Gary Holt: We've got six shows coming up in May with Suicidal Tendencies and Slayer – so I'll be doing double duty on those. Then I'm busy for the summer with Slayer. When that ends, hopefully we'll be ready to start up with Exodus.
Read more at Bravewords.
source: bravewords.com