GUITARIST ACE FREHLEY REVEALS THAT THE ORIGINAL LINE-UP OF KISS WILL NOT BE PERFORMING AT THE ROCK HALL INDUCTION, SAYS HE WILL NOT BE ATTENDING AND "I FEEL LIKE THE FANS ARE BEING LET DOWN"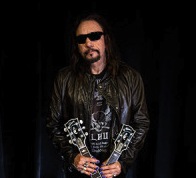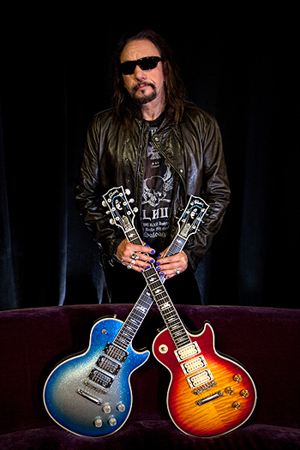 Original KISS guitarist, Ace Frehley, called into Eddie's Q104.3 radio show, Eddie Trunk Rocks on February 21st to say, that the original members of KISS will not be performing at the Rock N'Roll Hall of Fame Induction ceremony, scheduled to take place on April 10th at the Barclays Center in Brooklyn, N.Y..
Frehley said, "I don't think KISS fans are gonna be too excited and happy about the news, 'cause at this juncture, [KISS leaders] Paul [Stanley] and Gene [Simmons] have decided to perform with [current KISS members] Tommy [Thayer, guitar] and Eric [Singer, drums], and it looks like the Rock And Roll Hall Of Fame is going along with it."
The guitarist went on to explain that the decision was made by Stanley and Simmons "in the last 24 to 48 hours." He added, "The last time I was on [this radio show], it was a very exciting and happy call. And the Rock And Roll Hall Of Fame was very excited about having the four original members who are being inducted to perform at the ceremony. And that was shot down by Paul and Gene. And now it's kind of, like, if I'm not gonna put on the makeup and do a three-song reunion for the fans, then what am I gonna do? And right now, I'm not even sure if I'm gonna show up for that, you know?!"
The guitarist added that Stanley and Simmons "shot down doing any type of reunion with [original KISS drummer Peter Criss and me] — with makeup, without makeup," while Frehley himself ruled out performing alongside KISS' current lineup, saying, "I'm not gonna get on the stage with Tommy wearing my makeup. That's absurd."
He continued, "It's a shame. I know [the original lineup reunion is] what the fans wanted. I know it's what the Rock And Roll Hall Of Fame wanted. [But] it's not gonna happen."
When asked if he had any inkling as why Stanley and Simmons were so opposed to the idea of performing with the original lineup at the ceremony, Frehley said: "I don't know, and at this point, I really don't give a shit. [Laughs] I really don't care. It's, like, enough already. You don't wanna do something for the fans after 40 years of them supporting you? It's something the fans wanted, it's something the Rock And Roll Hall Of Fame asked of all four of us. They shot it down. It is what it is. I don't completely understand it, but those guys do a lot of things that don't make sense to me. It's unfortunate for the fans. We're being inducted because of the fans. And I feel like the fans are being let down. And I'm upset about it; I've gotta be honest with you. But I'm trying not to let it get to me because, like I said, I've gotta finish [my new solo] record and I've gotta think positive. And I wanna move forward. But it's upsetting."
He continued, "I'm working on my second book. I've got [my] new [solo] record [coming out]. What will be in the future will be. No matter what happens, I'm fine. And I'm having fun. And I'm creating great music. My life's great. And I can't let any negativity… I've gotta just let it roll off my back and continue doing what I've been doing — making great music. I'm at the tail end of [making my new solo] record… and this has just been a thorn in my side, because every day there's a different story: 'Yeah, maybe you can come and get up and do 'New York Groove'. And if you don't do it with KISS, you can do it with a celebrity lineup.' And that was shot down. It's very frustrating. It's also distracting my attention from the most important thing right now that I'm doing, [which] is working on music and creating. So it's very frustrating and a little disheartening."
Frehley also revealed the he won't be attending the Rock Hall induction.
"It was very important that I let the fans know that because the tickets are going on sale on Monday, and I didn't want people buying tickets thinking that they were gonna see a KISS reunion, and then be disappointed," he explained.
Listen to the interview here.