GREAT WHITE POST VIDEO FOR "BIG TIME"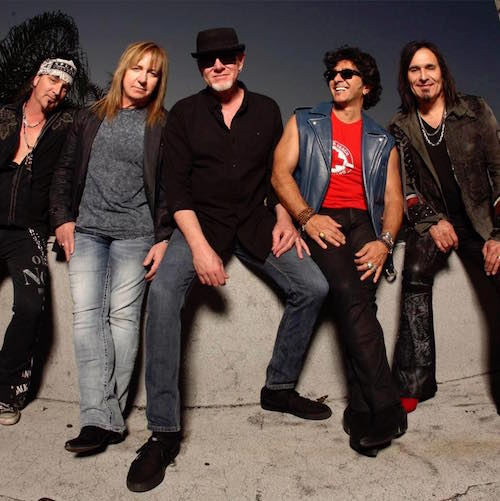 Great White (not to be confused with Jack Russell's Great White) have released a new album called, Full Circle, on June 2nd. The band have just released a video for the song, Big Time, from this release and it can be viewed below.
Full Circle was recorded in January and February 2017 with producer Michael Wagener.
"Full Circle" track listing:
1. I'm Alright
2. Movin' On
3. This Is The Life
4. Let Me In
5. Moonshine
6. Cry Of A Nation
7. Give It Up
8. Big Time
9. Never Let You Down
10. I've Got Your Back
Great White tour dates:
June:
9 San Manuel Indian Bingo & Casino, Highland, CA, US
17 with Vixen Little River Casino Resort, Manistee, MI, US
22 Proof Rooftop Lounge, Houston, TX, US
24 with Quiet Riot Big Spring, TX, US
30 Santa Cruz Beach Boardwalk, Santa Cruz, CA, US
July:
7 Turning Stone Resort Casino – Showroom, Verona, NY
14 Roar on the Shore, Erie, PA
15 with Faster Pussycat Penn's Peak, Jim Thorpe, PA
20 Lawrence County Recreational Park, Springville, IN
22 with Autograph and Vince Neil Chene Park Amphitheater, Detroit, MI
28 with Bret Michaels and Slaughter Hard Rock Hotel & Casino, Sioux City, IA
August:
11 with Vixen Wisconsin State Fair Park, West Allis, WI
12 Umatilla County Fairgrounds, Hermiston, OR
18 Boji Bay Fun House Pavilion, Milford, IA
25 with Slaughter Tropicana Las Vegas, Las Vegas, NV
September:
2 CenturyLink Center & Arena, Omaha, NE
9 with Styx, Skid Row, and 5 others Grand Casino Hinckley Events & Convention Center, Hinckley, MN
October:
20-22 Rockingham 2017 Nottingham Trent University, Nottingham, UK
November:
4 Wiener Bash 2017 Magic City Casino, Miami, FL
February 2018:
11 Monsters of Rock Cruise 2018 Port of Miami, Miami, FL
17 Coral Head MusicFest 2018 Coral Head Music Fest, Marathon, FL
For more information, visit songkick.com.
Great White is:
Mark Kendall- Guitar
Michael Lardie- Keyboards & Guitar
Scott Snyder- Bass
Audie Desbrow- Drums
Terry Ilous- Vocals
Great White online: