GREAT WHITE NAMES MITCH MALLOY AS NEW LEAD SINGER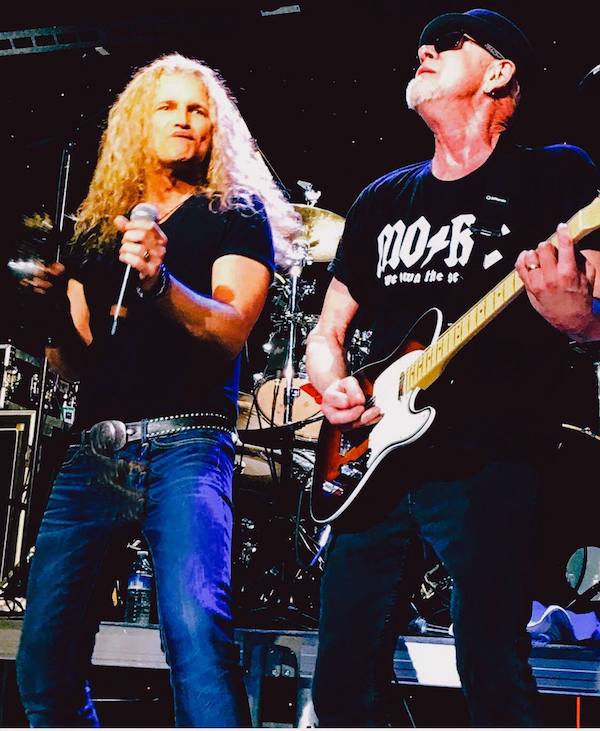 Legendary rock band, Great White is proud to announce that Mitch Malloy is now its lead singer. Malloy, a celebrated songwriter and artist now based in Nashville, takes the reigns as only the third lead vocalist in Great White's 36-year history.
"Mitch is an incredible singer, artist, songwriter and engineer," lead guitarist, Mark Kendall said. "We're beyond excited to stretch our musical muscles with a fresh, new take on Great White's catalog of hits. Terry Ilous has been released to join his other projects. We wish him the best of luck and thank him for his run with Great White."
Malloy, who originally hails from Dickinson, N.D., charted his first solo single, Anything At All in 1992. His subsequent hits Nobody Wins In This War and Our Love Will Never Die also made Billboard's Top 100. Most recently he's been cranking out penned hits and producing clients for his Malloy Master Tracks studio. These clients include Taylor Swift, Boys Like Girls, Kenny Loggins, Craig Morgan, Johnny Gates and many more.
Malloy has been in this is this situation before. In 1996 Rock & Roll Hall of Fame inductee, Van Halen, asked Malloy to take the reigns as its singer. Although Malloy didn't take the gig, he further established his reputation as a universally- respected frontman. He's thrilled to be a part of Great White. He's not trying to be a "clone" of previous singers Jack Rusell and Ilous.
"I have to represent this music honorably," Malloy said. "I respect what has come before me, and have to remind fans of where they were when they first heard these songs. I also have to be myself at the same time. When I first heard my own voice with Great White's music, I knew something special was going on."
Guitarist and keyboardist, Michael Lardie, praised Malloy for his musical chops and reputation.
"We had an immediate rapport with Mitch," Lardie said. "I'm positive the fans will embrace Mitch and continue to support Great White. This music is bigger than any one person."
"We're ready to rock with Mitch," drummer Audie Desbrow added. "2018 and beyond still has a lot in store for Great White. Don't ever count us down and out. It feels like we're just getting started."
Great White is focused on its newest journey with Malloy. They plan on returning to the studio and will update fans as soon as they can. Great White is Mark Kendall (lead guitar), Michael Lardie (guitar, keyboards), Audie Desbrow (drums, percussion), Scott Synder (bass) and Mitch Malloy (vocals).
Catch Great White on tour. More dates are being added and all dates subject to change.
July 14 | The Lucky Eagle Casino | Rochester, Wash.
July 20 | Harrah's Cherokee | Cherokee, N.C.
July 21 | Macon City Auditorium | Macon, Georgia
July 27 | St. Clair Riverfest | St. Clair, Mich.
July 28 | Beaver Dam Amphitheater | Beaver Dam, Ky.
July 30 | Monroe County Fair | Monroe, Mich.
August 3 | Psycho Silo | Sheffield, Ill.
August 4 | Clearfield County Fair | Clearfield, Pa.
August 15 | Iowa State Fair | Des Moines, Iowa
August 17 | Turning Stone Resort & Casino | Verona, N.Y.
August 18 | Kentucky State Fair | Louisville, Ky
August 19 | The Foundation Performing Arts Center | Spindale, N.C.
August 25 | Idaho Rock Fest Melaleca Field | Idaho Falls, Idaho
September 1 | Shenandoah County Fair | Woodstock, Va.
September 2 | Jergel's Rhythm Grille | Warrendale, Pa.
September 8 | Grand Falls Casino | Larchwood, Iowa
September 15 | Rockefella's Music Festival II | Banning, Calif.
September 22 | Southwind Casino | Newkirk, Okla.
September 28 | Private Event | Detroit, Mich.
September 29 | BMI Speedway | Versailles, Ohio
October 6 | Pearl River Casino & Resort | Philadelphia, Pa.
November 2 | Sycuan Casino | El Cajon, Calif.
November 16 | Golden Nugget Casino | Las Vegas, Nev.
Visit OfficialGreatWhite.com for additional details.
Great White on the web: