GLENN HUGHES DISCUSSES THE BLACK COUNTRY COMMUNION REUNION, AND HIS NEW SOLO ALBUM, WHICH HE SAYS IS THE "HEAVIEST" HE HAS EVER MADE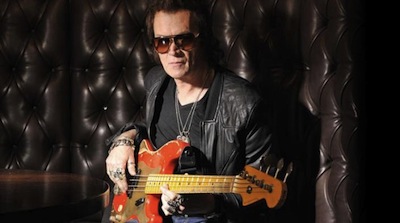 Glenn Hughes says his upcoming solo album is the "heaviest" he's ever made.
The singer and bassist will this week embark on his first-ever North American solo tour after he was forced to push back the planned March dates following his dual knee replacement surgeries in January.
But while he's been planning those shows, he's also been working on the follow-up to his 2008 album First Underground Nuclear Kitchen – and he says fans can expect some "aggression" when the record launches in November via Frontiers Records.
He tells Billboard, "It's possibly the heaviest record I've ever made. I don't want to confuse it with horns-up heavy – it's not metal. But it's definitely f–king heavy. It's dense. It's dark. There's some aggression on this record. Every bloody track is begging to be played live."
For his upcoming live dates, Hughes will be joined by guitarist Soren Andersen and drummer Pontus Engborg and he plans to play music from throughout his career, including tracks by Trapeze, Deep Purple, Hughes/Thrall and Black Country Communion.
And Hughes says even though they're going out on the road as a trio, there are no limits to what they can play live.
He adds, "If you have the right players, you can do anything. We'll do 12 or 13 songs, and there'll be some interplay. I'm a jammer – you won't see the drummer wearing headphones or hear any instruments accompanying us on tape.
I jam, and I enforce that in all my songs. It'll be slightly different each time we play. It's been like that from Trapeze up until this moment, so I'm not going to change now."
Hughes plans to record Black Country Communion's fourth album with guitarist Joe Bonamassa, drummer Jason Bonham and keyboardist Derek Sherinian, which they aim to release next year. And he says the resurrected outfit will also perform live at some point – though he's unsure whether they'll tour extensively.
Hughes continues, "Black Country will be playing, but what I can't say is how many shows, and where. I would think that'll happen next summer. We all know Joe books a year ahead, and he's been doing it for 30 bloody years.
I'm doing it on my own now, and I'm in love with playing on my own and going about my own business with my own band and own team. So I totally get what Joe's doing. But we've spoken about doing the record and then we spoke about doing shows, and I would think we'd do some shows even if it's not any kind of big tour."
Further release details for the Black Country Communion album and Hughes' solo record will be revealed in due course.
Glenn Hughes tour dates 2016
Aug 09: Annapolis Rams Head On Stage, MD
Aug 10: New York BB King Blues CLub & Grill, NY
Aug 12: Salisbury Beach State Reservation, MA
Aug 13: Shirley Bull Run Restaurant, MA
Aug 15: Buffalo Iron Works, NY
Aug 16: Syracuse Lost Horizon, NY
Aug 18: Sellersville Theater, PA
Aug 19: Albany Rascals, NY
Aug 21: Westland Token Lounge, MI
Aug 22: Battle Creek Music Factory, MI
Aug 24: Whitesburg Appalshop, KY
Aug 25: Chicago Reggies, IL
Aug 27: Chicago Reggies, IL
Aug 30: San Jose Ritz, CA
Aug 31: San Diego Brick By Brick, CA
Sep 02: Las Vegas Count's Vamp'd Rock Bar & Grill, NV
Sep 03: West Hollywood Whisky A Go Go, CA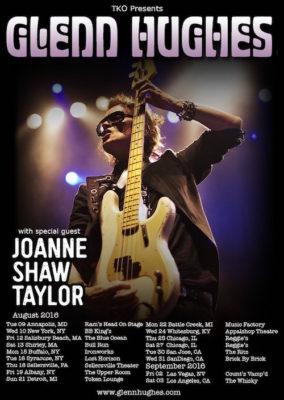 From September 14th through the 25th, Hughes will be performing in South America and then headed to the UK for some dates in November.
additional source: Classic Rock via teamrock.com