GHOST ANNOUNCE SPECIAL ONE NIGHT ONLY EXHIBIT AT THE WHISKY A GO GO IN WEST HOLLYWOOD, CALIFORNIA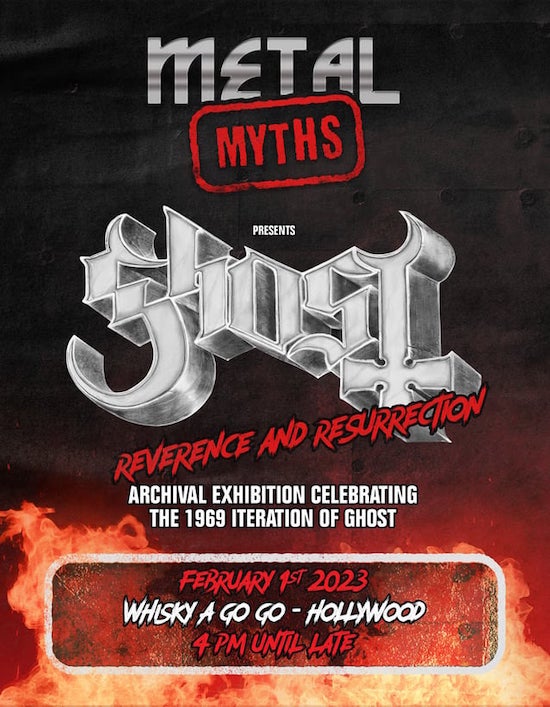 Sweden's Ghost, with their tongues firmly planted in their cheeks, have announced the first ever pop-up event from Metal Myths, the esteemed show that explores the histories and mysteries of the world's most extreme bands.
For one night only on February 1st at the world-famous Whisky A Go Go in West Hollywood, California, Metal Myths Presents: Ghost – Reverence & Resurrection will pay unique and extensive tribute to the classic 1969 era of Ghost, a band that didn't actually form until some four decades later.
From 4 p.m. until well into the evening, fans will have the rare opportunity to behold and worship artifacts from the short-lived but massively influential 1969 iteration of the band. Long unseen and never before publicly displayed, these artifacts will include:
* Ghost's 1969 costumes and ghoul masks on the very same Whisky A Go Go stage where the band performed its now-legendary September 13th, 1969 show.
* Rare magazine covers, the only surviving remnants of the mainstream music press coverage of Ghost from that era.
* A veritable treasure trove of ephemera on display for the first and possibly only time.
Ghost – Reverence & Resurrection will also offer attendees the opportunity to pick up exclusive merchandise and other surprises, including an advance chance to purchase the much-anticipated purple vinyl reissue of their 1969 seven-inch Seven Inches Of Satanic Panic, featuring Kiss The Go Goat and the song that would land them its first spot on the Billboard Hot 100 "decades" after its original release, Mary On A Cross.
For one day and one day only, Ghost's legacy will be on display for all who wish to step back in time and walk through the history of this one-of-a-kind band.
For further information, go to whiskyagogo.com/calendar/
Capacity is limited, so arriving early is highly recommended.