FORMER TWISTED SISTER GUITARIST JAY JAY FRENCH CALLS JUDAS PRIEST AND FOREIGNER "COVER BANDS"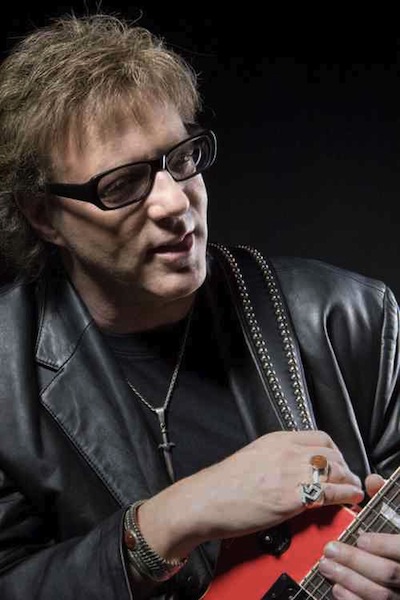 Twisted Sister guitarist Jay Jay French took part in a question-and-answer session at this month's Spooky Empire convention in Orlando, Florida, excerpts from the interview appear below (as transcribed by blabbermouth.net). Additionally, a video of the interview appears at the bottom of the article.
Talking about bands that h have continued performing well past their prime, French said: "[Judas] Priest is 65 years, 70 years old, Saxon's 80 f–king years old. The Rolling Stones are 90 years old. Watching Keith [Richards] and [Ronnie Wood] trying to play guitar is like being driven in a tour bus by José Feliciano and Ray Charles without GPS — it's a terrifying f–king experience. If THE Stones were smart, they'd hire two 25-year-old guys from Nashville who know how to play their song parts and let these two cadavers walk around on stage and f–king act like Johnny Depp in f–king 'Pirates Of The Caribbean.' They can't f–king play. And it bothers me they charge eight hundred dollars [for a ticket]. At least when you go to see The Eagles, there's 45 guys on stage, 'cause you want the [band] to sound like The Eagles. And when you see go see Roger Waters, there's 45 guys on stage, 'cause you wanna hear what 'The Wall' sounds like. But The Stones insist that you watch them decompose in front of your eyes for a high ticket price. And they suck so bad."
"I get annoyed only because we work so hard to be perfect every night," he continued. "And I watched them. I've been a Stones fan, by the way, all my life and saw them at the peak of their f–king life — in '69, '70, '71, '72. They were arguably the greatest rock band on the planet earth. And there's a DVD, 'Ladies And Gentlemen: The Rolling Stones,' which you can watch. Why are they happy sounding so bad when you've got this?
Now, Priest. Look what you've got with Priest. K.K.'s [Downing, guitar] gone — he went to golf. And now Glenn's [Tipton, guitar] left. And it's wonderful. And now it's a cover band, essentially."
After an audible reaction from the crowd, Jay Jay attempted to clarify his comment. "No, no, no… Wait, wait, wait… Hold on… I don't say this… I come from a world of cover bands," he said. "When Twisted Sister started in the bars, the cover bands that played the bars were better than the bands they covered. The reason why we were so big, the reason why Rat Race Choir and the Stanton Anderson [Band] — these are the bands that existed as bar bands back when we were playing in the bars — the reason why they were so good was 'cause they were better than the bands they were copying."
"You guys don't even know that [Led] Zeppelin was deteriorating so badly that by 1975, you couldn't go to a Zep concert without throwing up," he said. "They were so bad. You couldn't give tickets away to Zep concerts, but if you came to see Zebra playing Zeppelin on Long Island, you heard perfect Zeppelin — perfect Led Zeppelin. If you saw Rat Race Choir, you saw perfect Pink Floyd, you saw perfect Emerson, Lake & Palmer. It really mattered. I get that. I do understand it. It's a cover band. And that's what a lot of these bands are. Foreigner is a complete cover band; there's nobody left in Foreigner."
According to French, Twisted Sister disbanded in 2016 because the members wanted to go out while they could still deliver the kind of performances that earned them the reputation as one of the strongest live acts around…
…"Twisted Sister is a perfectionist band," he continued. "We've played thousands of shows. Every show is perfect. Every show is the last show of our life. Every show is done with the sincerity and the heartfelt desire to make sure you walk out thinking that's the best thing you're ever gonna see. We may not be the best band in the world, but damn it, when you see us live, playing with [Iron] Maiden or any of these other bands, you're gonna walk out thinking we're the best band in the world, because that's what we do. And we all say this to every band we play with: 'Blow us away. Take us out. Knock us on our ass. Because if you do that, you've made the fans happy. You've made the fans really happy, giving them their money's worth.' Nobody ever does — ever comes even close."