FIVE FINGER DEATH PUNCH TO RELEASE "A DECADE OF DESTRUCTION VOLUME 2" ON OCTOBER 9TH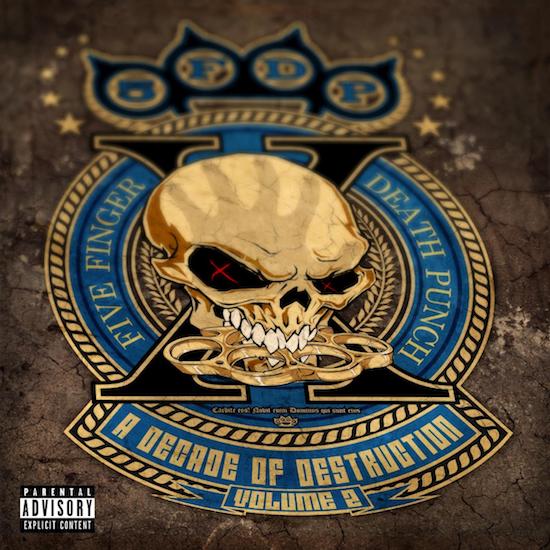 The multi-platinum hard rock group Five Finger Death Puchwill release a new 17-track greatest-hits collection, A Decade of Destruction Volume 2 digital and CD formats October 9th with a 2 LP set arriving on November 20; pre-order the collection now (CD pre-order link (here); LP pre-order link (here).
A Decade of Destruction Volume 2 is the follow-up to the band's popular 2017 compilation, which was recently certified Platinum by the RIAA.
The compilation features 12 of the band's most popular radio and streaming favorites that were recorded for the Prospect Park label during its first decade of existence. Collectively, these songs have generated over 1 billion U.S. streams, to date.
Also included on the album are five previously unreleased tracks, including a studio track (Broken World), an acoustic/orchestral rendition of one of their most popular songs (Wrong Side Of Heaven-Acoustic–which will be released digitally on September 25th) and three remixes of past favorites by some of today's most prominent remix artists, including Steve Aoki (Bad Company) Joe Hahn (Wash It All Away), and Felmax (Trouble).
A Decade of Destruction Volume 2 track listing:
Blue On Black [taken from And Justice For None]
2. The Tragic Truth [taken from American Capitalist]
3. Broken World [new song – previously unreleased]
4. I Refuse [taken from And Justice For None]
5. The Pride [taken from American Capitalist]
6. Hard To See [from War Is The Answer]
7. When Seasons Change [taken from And Justice For None]
8. Cradle To The Grave [taken from The Wrong Side Of Heaven, Vol. 2]
9. Sham Pain [taken from And Justice For None]
10. M.I.N.E (End This Way) [taken from The Wrong Side Of Heaven, Vol. 1]
11. Hell To Pay [taken from Got Your Six]
12. Never Enough [taken from The Way Of The Fist]
13. Walk Away [taken from War Is The Answer]
14. The Wrong Side Of Heaven- Acoustic [new song – previously unreleased]
15. Bonus Track : Trouble (Felmax Remix) [previously unreleased]
16. Bonus Track: Wash It All Away (Joe Hahn Remix) [previously unreleased]
17. Bonus Track: Bad Company (The Five Finger Dim Mak Steve Aoki Remix) [previously unreleased]
5FDP online:
Official Website, Twitter, Instagram, Facebook and Youtube