"EXIT 111" ANNOUNCES LINEUP BY DAY WITH SET TIMES FOR INAUGURAL FESTIVAL OCTOBER 11TH-13TH IN MANCHESTER, TN AND HOSTED BY EDDIE TRUNK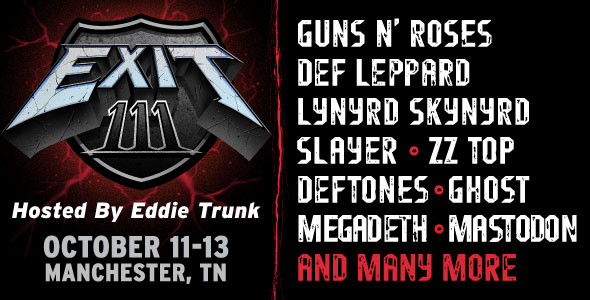 The Lineup By Day with set times for the inaugural EXIT 111 Festival–October 11th-13th at the Great Stage Park in Manchester, TN–has now been revealed with Guns N' Roses (Sunday, 8:10 PM), Def Leppard (Saturday, 11:45 PM) and Lynyrd Skynyrd (Friday, 11:10 PM) each performing headlining slots closing out the festival's daily musical performances. Slayer, Anthrax, and Killswitch Engage are also among the Friday performers, ZZ Top, Mastodon, Ghost and Cheap Trick fill out Saturday's line-up, with Ministry, Coheed and Cambria and Deftones on Sunday's bill. The inaugural three-day event hosted by Eddie Trunk features a heavyweight line-up that celebrates all forms of rock–from hard to classic, alternative to southern–with more than 40 acts appearing on three stages (full line-up below).Doors open at 3:00 PM on Friday and 12 Noon on Saturday and Sunday.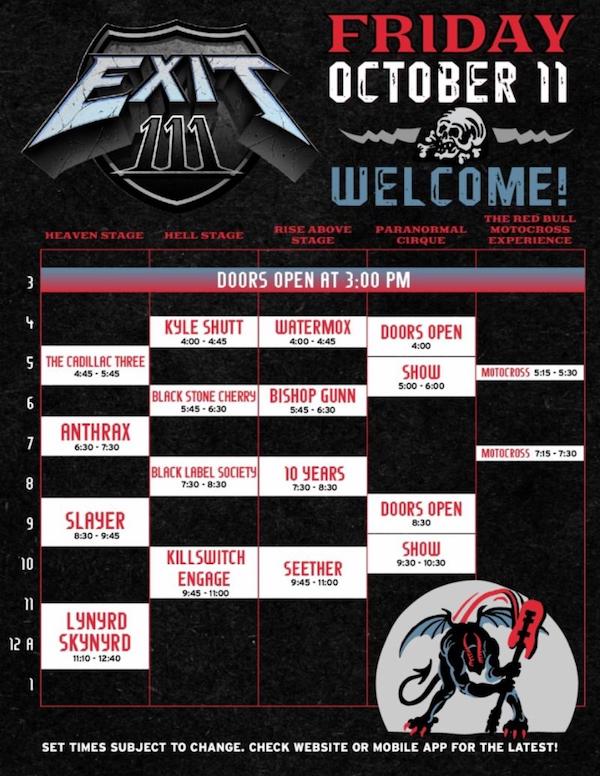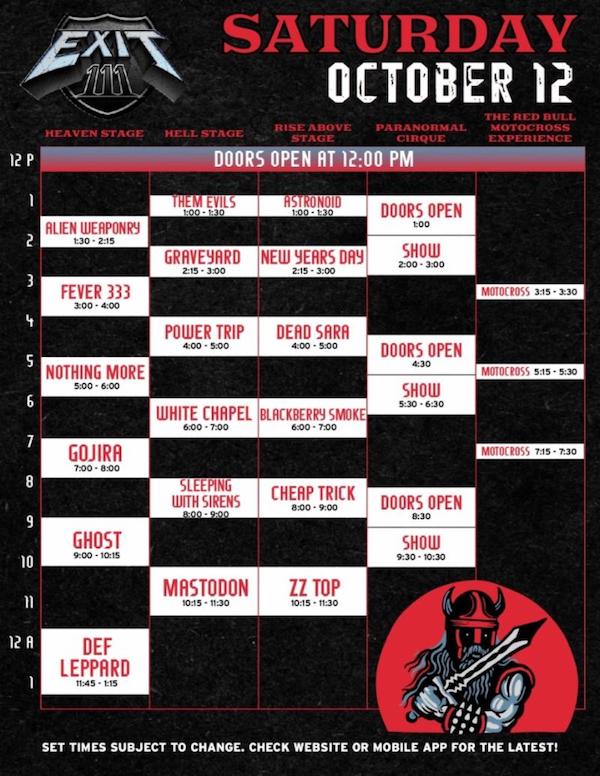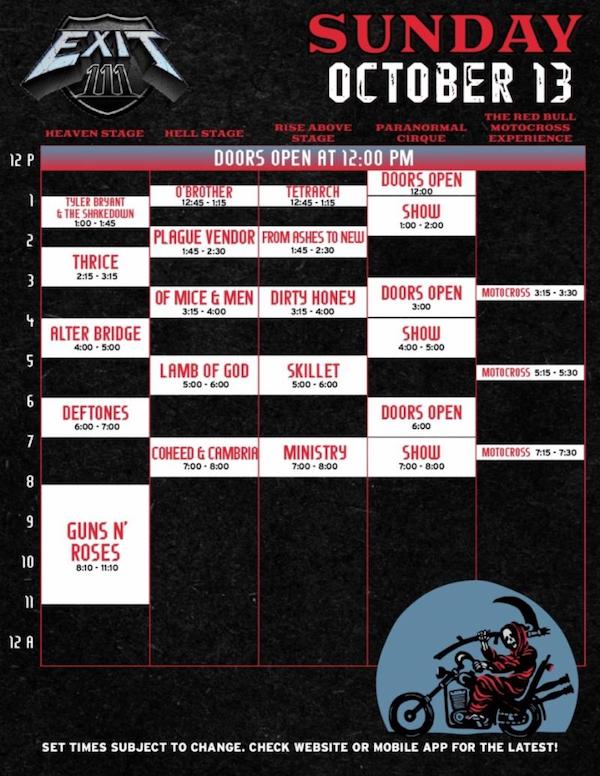 Beyond the music, the EXIT 111 Festival site–known to millions as the home of the Bonnaroo Music & Arts Festival–will be transformed into a rock and roll playground with camping and a variety of activities tailored specifically to concert-goers. Details are as follows:
 
● The Paranormal Cirque
 
Step into another, darker dimension with Paranormal Cirque! Step under the tent for one of two daily shows to experience a world of combined theatre, circus, and cabaret presented by Cirque Italia. Watch acrobats of the Air, Illusionists, freaks, and mysterious creatures bring the tent to life for one very paranormal experience. Paranormal Circus is free to all Exit 111 ticket-holders, with platinum ticket holders eligible for reserved seating. This experience is for ages 13+.
 
● The Red Bull Freestyle Motocross Experience
 
Red Bull action sports athlete, Tyler Bereman along with some of the best freestyle motocross riders in the world including Brody Wilson, Keith Sayers, James Carter, will be showcasing their insane talents at Exit 111. Get ready to see these talented athletes perform jaw-dropping stunts all 3 days! This event is free to all Exit 111 ticket-holders. 
 
● Mega Sports Bar
 
Rock hard, play hard. You won't miss the big games of the weekend. The bar will have everything from college football and the NFL to baseball and hockey games. Every sport will be represented, grab a beer and get into it.
 
● Exit 111 Car Show
 
Get ready for the first-ever, all makes, all models car show at Exit 111. Grab a drink and walk the grounds to get a glimpse of cars of all varieties. The car show is free to all Exit 111 ticket-holders. More information is coming soon and the festival is opening the arena to showcase your car, details of which will be announced soon.
For more information please visit:

www.exit111festival.com
facebook.com/Exit111Fest
instagram.com/exit111fest/