EXCLUSIVE VIDEO CLIPS REVEALED FROM DIMEBAG DARRELL'S "DIMEVISION VOL. 2: ROLL WITH IT OR GET ROLLED OVER" DVD/CD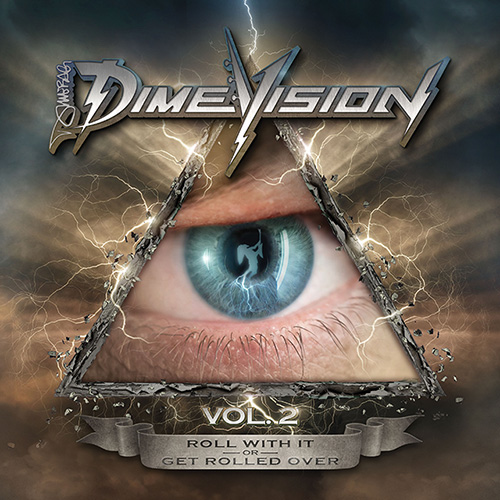 Metal Blade Records recently announced the follow up to 2006's poignant Dimebag Darrell video memorial set, Dimevision Vol 1: That's The Fun I Have, dubbed Dimevision Vol 2: Roll With It Or Get Rolled Over – another true celebration of Dimebag and how he lived his life. The DVD/CD set – which will include more raw footage, true gems and classic moments – will hit retailers on November 24th. The set will also include five previously unreleased demos, picked from a vast catalog Dimebag accrued since longtime girlfriend Rita Haney gave him his first 4-track in 1984. Dimebag's personally-written lyrics, dates and notes on those tracks will also be included.
Dimevision Vol 2: Roll With It Or Get Rolled Over continues in the same vein as Dimevision Vol 1: That's The Fun I Have with the inclusion of hilarious video segments that will bring back great memories for any fan of Dimebag Darrell and his bands. Following up on last week's release of the CPAP machine fitting clip (see above). Rita Haney and Co. have revealed another clip – this time showcasing a few of Dime's favorite costumes and funny personas (see below).
Rita Haney comments, "Exclusively from Dimebag's own Props Room at The Fortress. C'mon over and getcha pull off some new items…just posted! Here comes your chance to own a piece of Dimevision History. Props and custom-made costumes (by Dime's own hand) available now in our PledgeMusic store only. Extremely limited. Red stiletto chair, along with many more items will be uploaded all weekend…So keep checking back – or you may miss your chance to own one of Dime's favorite tees or hats."
Pre-orders for Dimevision Vol 2: Roll With It Or Get Rolled Over are now available via Metal Blade at metalblade.com/dimevision/.
A PledgeMusic campaign has also been launched to support the release of the set, also acting as a pre-order. The PledgeMusic campaign includes an assortment of rare items to buy, including props and costumes that belonged to Dimebag and that you can see in his home videos/Dimevision volumes, rare stage clothing, and other merchandise. Visit the PledgeMusic page here.
Going into making Dimevision Vol 2: Roll With It Or Get Rolled Over, Rita Haney worked in collaboration with Daryl "Bobby Tongs" Arnberger, who was not only one of Dimebag's closest friends both on and off the road, but also worked as an official videographer for Pantera, Damageplan and a plethora of A-list musicians, from Slipknot to Dolly Parton, along with film editor Rob Fenn. After cataloguing hundreds of tapes, they chose 43 segments to create Dimevision Vol. 2.
"He had a unique way of seeing things, and he always lived with a video camera," says Haney. "No matter where we went he was always capturing what was going on, and myself and others around him were filming a lot too. In putting out these videos I just want people to see the way he was, 24/7. What you saw on stage and backstage, that was how he lived."
Haney adds, "There were some really touching, deep, heavy and emotional moments in the first one, where he's talking about himself to the camera while in the shower. Filming himself like that was something he did a lot, and you'd have no clue until you're looking through the tapes and come across them, and when you do the goosebumps crawl all over you. People that love and know Darrell are going to be touched by what he has to say, because it's him telling you for the first time."