EDDIE TRUNK TO HOST AXS TV'S ALL NEW "REEL TO REAL" SERIES, MUSIC DOCUMENTARIES TO AIR ON THE LAST TUESDAY OF EACH MONTH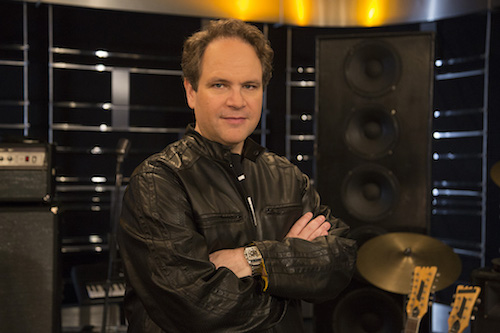 AXS TV, the premier destination for music festivals and everything rock and roll, expands its music based programming lineup with the launch of Reel To Real—an all-new series premiering a different critically acclaimed documentary on the last Tuesday of each month.
Reel To Real is hosted by popular TV and radio personality Eddie Trunk (That Metal Show), who will be on hand to introduce every premiere, providing insights and facts about the production, the artists, the inspirations and the impact of each doc. The series kicks off on May 31st at 9pE, with GRAMMY®-winning punk rockers Green Day in Heart Like A Hand Grenade.
Heart Like A Hand Grenade chronicles the making of the 2015 Rock and Roll Hall of Fame inductee Green Day's George W. Bush-era protest album American Idiot. The album went on to win a GRAMMY® and was turned into a Broadway Musical of the same name.
Other premieres include iconic guitarist Dave Navarro in Mourning Son (June 28th); This Ain't No Mouse Music! (July 12th); Ain't In It For My Health: A Film About Levon Helm (July 26th); Who Is Harry Nilsson (And Why Is Everyone Talkin' About Him)? (August 30th); Jason Becker: Not Dead Yet (September 27th); Radio Unnameable (October 25th); Music From The Big House (November 29th); and Genius Within: The Inner Life Of Glenn Gould (Dec. 27th).
"This destination night was specially crafted by music lovers for music lovers, with nine documentaries that grant a rare look at some of the most influential names in the industry," said Jeff Cuban, COO of AXS TV. "Viewers will surely be enthralled by the openness of each of the artists as they welcome you into their lives, careers, and the creative process that got them to where they are. We're excited to have Eddie Trunk on board, whose encyclopedic knowledge of all things music makes him the perfect host for this new venture."
"As a huge fan of all music documentaries I couldn't be more thrilled to be hosting this great new series for AXS TV. I had a blast learning the stories of the eclectic group of artists featured in Reel to Real and to have had the chance to add insights, observations, and comments, and in a few cases from the some of the artists themselves, was an incredible experience," said Trunk.
Watch a promo video below.
AXS TV's complete Reel To Real programming lineup is as follows:
Heart Like A Hand Grenade (2015):
Airing: Tues., May 31st at 9pE:
Filmed over the course of 15 months, this art house-style feature provides an in-depth look at the making of Green Day's landmark seventh album American Idiot, as the band enters the studio to record and discuss the music that would ultimately catapult them back into the mainstream and forever cement their status as true punk heroes.
Mourning Son (2015):
Airing: Tues., June 28th at 9pE:
Jane's Addiction guitarist Dave Navarro stars in this deeply heartfelt documentary, following his quest for healing and closure as he recalls the night his mother was murdered when he was just 15 years old, and the impact that it had on his early life, as he struggled to make peace with his traumatic through Art, drugs, and escapism.
This Ain't No Mouse Music! (2013):
Airing: Tues., July 12th at 9pE
How did a German count become one of the figureheads of Blues and Cajun music? In this entertaining doc, roots hero Chris Strachwitz recalls his escape to America at 16, where he was introduced to a scene and culture unbeknownst to many, sparking a lifelong love affair and a mission to bring the musical soul of America to the masses.
Ain't In It For My Health: A Film About Levon HelmWho Is Harry Nilsson (And Why Is Everyone Talkin' About Him)? (2006)
Airing: Tues., August 30th at 9pE
GRAMMY-winner Harry Nilsson is remembered by an all-star roster of his closest friends and collaborators—including Robin Williams, Brian Wilson, Yoko Ono, Eric Idle, The Smothers Brothers, and more—as they discuss the tremendous highs and devastating lows of the songwriter many consider to be one of the greatest of all time.
Jason Becker: Not Dead Yet (2012):
Airing: Tues., Sept. 27th at 9pE
After being diagnosed with ALS at 19, doctors said guitar virtuoso Jason Becker would never play again. Six years later, despite having lost the ability to move and speak, Becker released the first of two full-length albums. This uplifting doc takes viewers inside Becker's inspirational journey, as he continues to defy the odds for the Art he loves.
Radio Unnameable (2012):
Airing: Tues., October 25th at 9pE
Free-form pioneer Bob Fass revolutionized the airwaves in 1963 with the launch of the groundbreaking Radio Unnameable program—an eclectic haven for music, politics, and culture, where artists and activists converged, and listeners were an integral part of the show. Over 50 years later, Fass remains behind the mic, redefining what radio really is.
Music From The Big House (2010):
Airing: Tues., November 29th at 9pE
Go behind bars with Blues icon Rita Chiarelli, as she explores the impact of the form on some of the most violent inmates in one of America's most notorious institutions: Angola Prison. Chiarelli bravely gets these men to open up about the hope they've found in the Blues, before joining four of Angola's best bands for an unforgettable collaboration.
Genius Within: The Inner Life Of Glenn Gould (2010):
Airing: Tues., December 27th at 9pE
Using archived footage and personal home movies, this film pieces together the fascinating life of pianist Glenn Gould, whose upbringing as a child prodigy rocketed him into an unparalleled level of fame, masking an inner struggle as he dealt with depression, strokes, and hypochondria, leading to his untimely death at the age of 50.