EDDIE TRUNK HOSTS THE 23RD ANNUAL "INKED OUT NJ" TATTOO AND CONCERT SERIES, SEPTEMBER 15TH-17TH AT THE MEADOWLANDS EXPO, WITH SPECIAL GUESTS SEBASTIAN BACH, L.A. GUNS' PHIL LEWIS AND FASTER PUSSYCAT'S TAIME DOWNE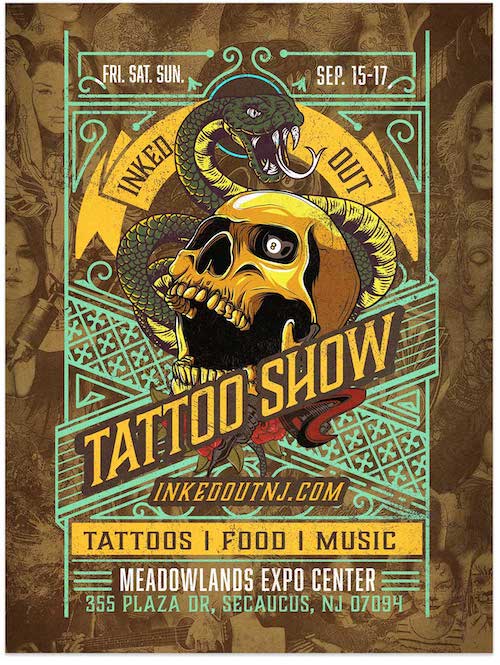 Prepare for an unforgettable weekend of ink, music, fun, and artistry as the 23rd Annual Inked Out NJ Tattoo and now concert series comes to the Meadowlands Expo Center in Secaucus New Jersey, from September 15th to 17th. Proudly presented by renowned tattoo artist Mario Barth of Starlight Tattoo and sponsored by Intenze Tattoo Ink and Stencil Stuff, this year's event offers attendees an exceptional lineup of experiences. Fun for the entire family. Kid- friendly activities and live music all three days. International Tattoo Artists from around the globe, including Dave Paulo, Bob Tyrrell, Daniele Stella, and the Brazilian Danilo Queiroz, to name a few. Over 400 Artists, all lineups confirmed and sold out.
Intenze Tattoo Ink, the world's leading tattoo ink brand, is proud to sponsor this event celebrating the convergence of tattoo artistry and music. With a legacy of over two decades, Inked Out NJ has established itself as a premier platform for self-expression and creative celebration.
Join us for a weekend filled with remarkable highlights:

Friday, September 15th: All First Responders and Military Personnel will receive free entrance to the tattoo show and concert, a $50 value, as appreciation for their service, honoring a "Hero Award." Intenze Tattoo Ink and Stencil Stuff proudly sponsor them. Music provided by Grey Daze is a powerhouse of sound and is re-igniting the lost sound of Chester Bennington. The incredible and hard-hitting Country Rock band Mario Barth & About Kings, which toured Europe and performed for over 1 million people, will close the night.
Saturday, September 16th: Experience the electric synergy of the "Rock & Tats" All-Star Band, featuring rock luminaries Brent Woods, Todd Kerns, and Brent Fitz. Joining this stellar lineup on stage will be Taime Downe of Faster Pussycat, Phil Lewis of L.A. Guns, and a special guest appearance by Sebastian Bach, the original voice of Skid Row. The renowned Eddie Trunk will host this exceptional evening, promising an unforgettable night of music and camaraderie.
Sunday, September 17th,: The festivities continue with the local favorite, Going Down, a British blues rock band that will set the stage ablaze with their soulful melodies. Following their performance, embark on an electrifying sonic odyssey with Chris Anderson leading Once an Outlaw, a boundary-defying band whose past credits include playing in legendary bands such as The Allman Brothers and Lynyrd Skynyrd. Weaving together the raw energy of rock 'n' roll, the soulful depths of blues, and the captivating storytelling of folk-inspired music.

The 23rd Annual Inked Out NJ Tattoo and Concert Series tickets are going fast. They are available now, offering access to an entire weekend filled with art, music, and commemoration. Please take advantage of this unique opportunity to be part of a multifaceted celebration that pays tribute to our heroes, showcases world-class artistry, and delivers an unmatched musical experience. Three-day passes are available for only $75. Three-day Tattoo Show Only for $50. Single-day tickets are also available for $25.
DJ Aero will be playing all weekend long. and one lucky winner every day will receive a $1000 tattoo certificate courtesy of Starlight Tattoo New Jersey. No purchase necessary.
Tattoo Show hours: Friday 4 pm – 9 pm; Saturday 10 am – 9 pm; Sunday 10 am – 6 pm
Concert Hours: Friday 9 pm – 12 am; Saturday 9 pm – 12 am; Sunday 6 pm – 8 pm
For more information, including ticketing details and the complete event schedule, please visit inkedoutnj.com.