EDDIE TRUNK ANNOUNCES CELEBRITY BOWLING TEAM TO DEFEND HIS FIRST PLACE TITLE AT FIFTH ANNUAL "BOWL FOR RONNIE" ON NOVEMBER 7TH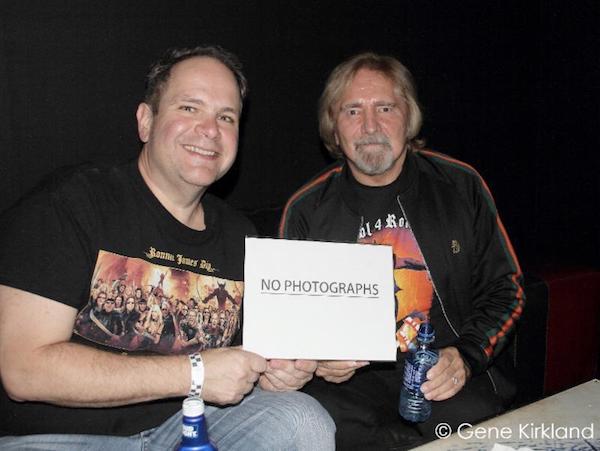 Television and radio personality Eddie Trunk is set to do battle to defend his 2018 celebrity bowling team's 1st Place title at the Fifth Annual Bowl For Ronnie Celebrity Bowling Party on November 7th at PINZ Bowling Center in Studio City, California. Joining Trunk on his team this year will be Geezer Butler of Black Sabbath, the Foo Fighters' Dave Grohl, Brent Woods (Sebastian Bach) and Steven Adler (Guns N' Roses, Adler's Appetite).
A place on the Trunk team is being held for the winning bidder in the eBay auction that is currently under way to be part of this celebrity team. The auction closes on October 27th at 6PM Pacific time.
Trunk, who is heard on SiriusXM's Volume channel and whose TV series, TrunkFest, airs on AXS-TV, will once again host the Bowl For Ronnie benefiting the Ronnie James Dio Stand Up and Shout Cancer Fund, which sold out in advance last year and raised a record $74,000 for the cancer charity.
Trunk's 2018 celebrity bowling team comprised of rockers Doug Aldrich, Jack Black, Geezer Butler and Tom Morello plus winning eBay bidder Steve Prziborowski of San Jose, California took first place at last year's event. It was the first time Butler, who is returning this year, had ever bowled. Marc Ferrari's 2018 team including Fred Coury, Ritchie Kotzen, Brett Scallions, Gilby Clarke and Tammy Lester (Round Hill Publishing), who took 2nd place last year, are preparing for a heated battle for this year's top spot.
Photo credit: Gene Kirkland