DRUMMER VINNIE PAUL REPORTEDLY DIED IN SLEEP, AWAITING MEDICAL EXAMINER'S OFFICIAL REPORT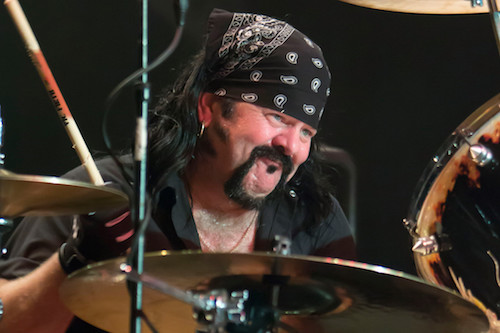 TMZ is reporting that drummer Vinnie Paul died in his sleep at his home in Las Vegas. His body has been turned over to the medical examiner to determine [the exact] cause of death. After that is revealed, his body will be flown back to his home state of Texas, where he will be buried along side his mother and brother.
Both singer Phil Anselmo, and bassist Rex Brown, posted online condolences regarding their former Pantera bandmate. Anselmo posted a picture of a candle on his Instagram page. While Brown stated on his Facebook page, "The last few days have been very difficult and painful. At this time, I need more time to process my feelings. Thank you for all the love that has been sent. A formal press release will be coming shortly. Rest in peace, brother Vinnie!" He continued in the comments section, "I had to put something out socially. I am doing okay considering. This is not about me; it's about the love, amazing times and friendship we had long ago. Everybody is going through their own strife with this. Pray for Jerry Abbott. No man should have to bury two incredible sons in one lifetime. God bless. You will hear my deepest feelings in the days to come."
Paul passed away on June 22nd at the age of 54. He was a founding member of Pantera, DamagePlan and his current band Hellyeah.