DRUMMER JOEY KRAMER SAYS HE WILL BE ATTENDING TONIGHT'S MUSICARES BENEFIT HONORING AEROSMITH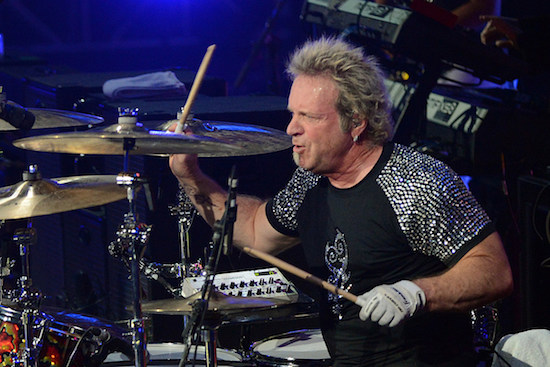 TMZ caught up with Aerosmith drummer Joey Kramer last night (January 23rd) at a pre-Grammy Awards party in West Hollywood.
The cameraman asked him if he will be attending tonight's (January 24th) MusiCares benefit honoring the band.
Kramer responded, "I'll be there tomorrow night to spread the love. 'Cause that's what it's about." See the video, here.
As previously reported, Kramer lost his court case against his old bandmates, requesting that he be allowed to re-join the band. TMZ also obtained footage of drummer being turned away by security as he tried to attend a band rehearsal.
Aerosmith's official statement regarding Kramer's lawsuit stated, "We would be doing a disservice to Joey, to ourselves and to our fans to have him play without adequate time to prepare and rehearse. Compounding this, he chose to file a lawsuit on the Friday night of the holiday weekend preceding the Grammys with total disregard for what is our limited window to prepare to perform these important events."
It continues, "Given his decisions he is unfortunately unable to perform, but of course we have invited him to be with us for both the Grammys and our MusiCares honor. We are bonded together by much more than our time on stage."
Kramer for his part responded to TMZ by saying, "Being prohibited from playing with a band that I have given 50 years of my life to supporting, is beyond devastating. This is not about money. I am being deprived of the opportunity to be recognized along with my peers, for our collective, lifetime contributions to the music industry. Neither the MusiCares' Person of the Year Award nor the Grammys' Lifetime Achievement honors can ever be repeated."
He continues, "I hope our fans can understand that all I'm trying to do is get back to playing with the band that they love – and that's Aerosmith with all five original members. The greatest magic and success of Aerosmith happens when all the band's founding members are together in the house."
Finally, Joey says, "To be removed from my rightful place on stage to celebrate our success – a success that acknowledges my own life's work, is just plain wrong."
Regarding losing his lawsuit, Kramer stated, "Although I'm extremely disappointed by the Judge's ruling…I respect it. I knew filing a lawsuit was a bit of an uphill battle considering that the corporate documents don't reference any process for a band member returning from an injury or illness…I want to thank my fans for the incredible outpouring of support and for sharing my goal of taking my place on stage as one of the five founding members of Aerosmith and continuing to play the music I love." Read Kramer's entire statement, here.