DOKKEN TO RELEASE LONG ANTICIPATED NEW STUDIO ALBUM "HEAVEN COMES DOWN," FIRST SINGLE/VIDEO "FUGITIVE" AVAILABLE NOW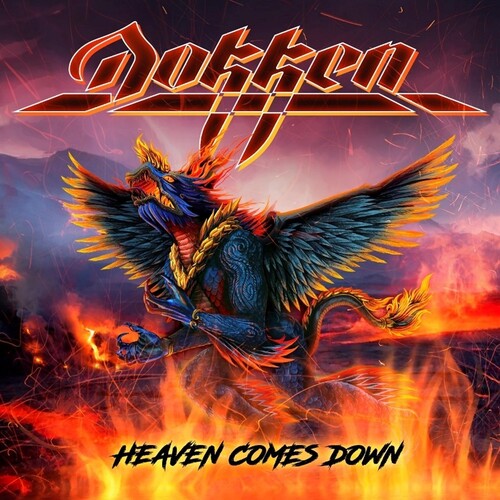 An unapologetic celebration of everything Dokken do best, yet now through a wiser and richer lens, Heaven Comes Down, the 13th studio album from the legendary American rockers, will be released on October 27th (Silver Lining Music).
"The long anticipated new Dokken album, Heaven Comes Down, is finally done and the first single is titled Fugitive." declares Don Dokken. "The inspiration for the lyrics came from what seems to me to be an uncertain world these days. It's an up-tempo Rokker as are many on the album. I don't know what the future holds for our world, so I decided to take a step back and watch it all unfold… Yes, I guess I've become like many these days a fugitive from life. Hence the title!"
"The song rocks and the lyrics are self-explanatory," continues Don, "like many songs I've written, it came to me late at night. Inspiration and pure stream of consciousness have always been the best formula for me when composing. It has that classic Dokken sound… A great song to blast when driving down the highway." 
Heaven Comes Down will be released on CD Digipak, 12" Vinyl Album in Black and colour variants, digital formats and special D2C products and bundles. Available to pre-order from August 8th 2023 at this location.
Heaven Comes Down Track Listing:
1 – Fugitive
2 – Gypsy
3 – Is It Me Or You?
4 – Just Like A Rose
5 – I'll Never Give Up
6 – Saving Grace
7 – Over The Mountain
8 – I Remember
9 – Lost In You
10 – Santa Fe
Dokken Upcoming Dates:
August 19 – Shoshone Bannock Casino Hotel – Chubbuck, ID
September 20 – The Big E – West Springfield, MA
October 14 – RCU Theatre – Eau Claire, WI
October 21 – The Piazza – Aurora, IL
November 11 – Piere's – Fort Wayne IN, 
November 17 – Golden Nugget Hotel & Casino – Las Vegas, NV
November 18 -Whisky A Go Go – West Hollywood, CA
Dokken is:
Don Dokken – Vocals                                                                                                                         
Jon Levin – Guitar
Chris McCarvill – Bass
BJ Zampa – Drums
Follow Dokken on: Official Site, X/Twitter, Facebook, Instagram and Youtube.