DOG ATTENDS METALLICA CONCERT…YES, YOU READ THAT CORRECTLY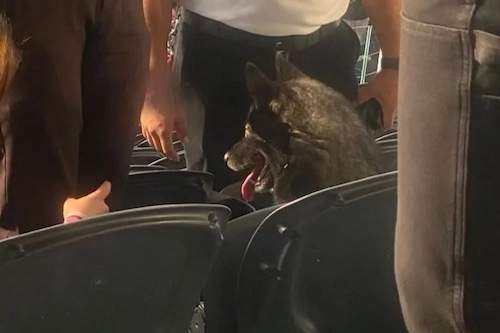 A California dog went viral after she escaped her owner's home over the weekend, and nosed her way into a Metallica concert — nabbing a seat for the record-breaking, sold-out gig, reports the NY Post.
"You might have heard we had a four-legged fan join us for #M72LA!" the band wrote on social media Thursday, alongside a viral photo of the canine crasher, Storm, perched politely in the audience for the August 25th show at SoFi Stadium.
"After a full night taking in the show with her #MetallicaFamily, Storm was safely reunited with her actual family the next day. She had a great time listening to her favorite songs, including Barx Æterna, Master of Puppies, and The Mailman That Never Comes…"
…"She is apparently a huge Metallica fan who decided to sneak out for the concert." Storm's owner, Arizbeth Hurtado, joked on PetHelpful, the outlet said.
"We were laughing so hard when we saw she was SITTING IN AN ACTUAL SEAT AT THE CONCERT."
But while's Storm adventure went well, experts warned others looking to take man's best friend to concerts might be barking up the wrong tree.
"Regardless of what people think, no dog should be taken to a rock concert. It was extremely loud," Animal Hope & Wellness wrote online.
"You definitely shouldn't bring your furry friends to the #M72 World Tour. But this dog sure did have her day…" Metallica added in their own statement.
The band is on a two-year world tour promoting their "72 Seasons" album, the Chronicle noted.
The Los Angeles leg broke the SoFi's single-show attendance record — drawing 80,000 fans to the venue for the August 25th show alone, the venue confirmed.